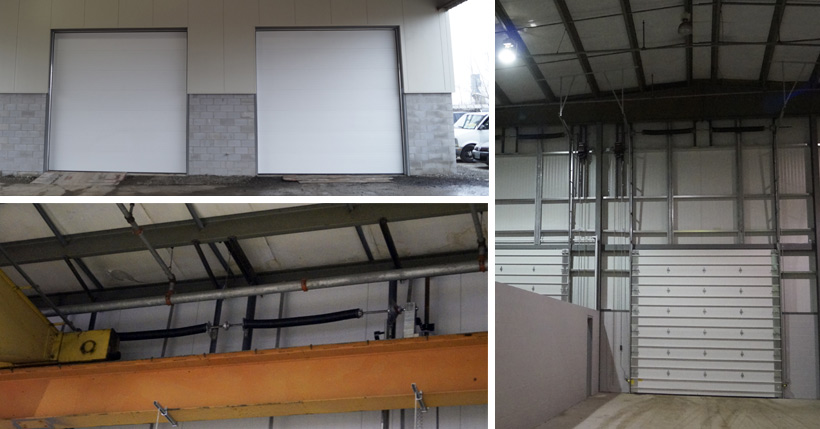 Custom overhead door solutions based on a customers unique needs.

Company: Skytec Rentals
Province: Hamilton, Ontario
Providing The Right Solution, At The Right Door 
Skytec Rentals was looking to expand their existing facility to meet a growing demand to service their customer base. Northern Dock Systems was awarded the contract, by DeFaveri Group of Companies to supply the overhead door equipment for this expansion. The specifications and drawings called for three large sectional overhead doors to be provided with jackshaft operators.
Solid Solutions With Solid Doors 
Northern Dock Systems knows that overhead doors are one of the more critical aspects to any business operation that focuses on the moving of equipment in & out of the facility. Insulated steel sectional overhead doors c/w jackshaft operators were the specified design. Thru-beam photo eyes were added to ensure safe operation & Receiver/Transmitters provided for remote access control. With Remote Transmitters in hand, staff at the new facility will be able to operate freely and efficiently moving in & out of the building.
Faced with the challenge of an interfering Crane Rail which prevented the use of a standard jackshaft operator, NDS was able to provide the optimal solution. In order to meet the limited space requirements, NDS provided Skytec with a High Performance, Low-Profile Stealth Operator which requires only 6" of clearance. This solution allowed the customer to maintain efficient power operation of the door, while providing full clearance for the operation of the crane.

The Stealth Operator, with its direct drive motor will work to reduce future maintenance requirements. By eliminating the use of the drive chains and sprockets & reducing the number of moving parts, future maintenance issues will be drastically reduces. In addition, the Stealth Operator can provide operating speeds of up to 36" per second open and 24" per second close, further helping to prevent energy and heat loss on cold winter days.
I just wanted to express our sincere appreciation for a job well done at Skytec's new shop extension. The product and service are outstanding. Your installers are consummate professionals and it is a true pleasure to deal with great people like that.

We are extremely happy with the end result and hopefully we will have an opportunity to deal with your company again. Your customer service is top notch and it is refreshing to see a company that truly cares about what they do.

– George Rakas (V.P. of Sales, Skytec Rentals Inc)
Construction, Design, Build 
The construction team at Northern Dock Systems uses their experience to properly evaluate a site condition, understand the customer's needs and operation, and then provide solutions best suited for their application. Working side-by-side with DeFaveri, NDS was able to satisfy all the requirements of the specifications, as well as suggest & provide new solutions to overcome obstacles that presented themselves along the way all to the benefit of another satisfied customer.
Download The Case Study
Products in this case study