Supporting trailers up to 100,000 pounds to prevent trailer up-ending
AutoStand Plus is the perfect solution for heavyweight and high-traffic docks. Placed under a trailer, AutoStand Plus features a gas shock, self-levelling lever-based adjustment system to support up to 100,000 pounds.
• Extensive load capacity: AutoStand Plus is able to lift trailer loads of up to 100,000 pounds.
• Easy operation: It only takes a few seconds to properly set AutoStand Plus in place.
• Increased safety: Prevent trailer up-ending, landing gear collapse and damage to personnel or products.
Prevent trailer upending or landing gear collapse
Trailer stability is affected by a complex relationship involving: a number of axles, trailer weight, landing gear placement, weight and placement of cargo, weight and position of forklift, and more.
Transport trailers present a critical safety risk due to the weight of cargo and forklifts. When the cab disengages from the trailer, there are two potential risks this creates unless a secondary support system is utilized.
• Potential risk #1: The trailer's landing gear collapses.
• Potential risk #2: The trailer begins to upend (tip over).
Simply taking a few seconds to place the AutoStand Plus under the trailer's front end adds extra strength and support to prevent mishap and potentially serious damage or injury to both personnel and products.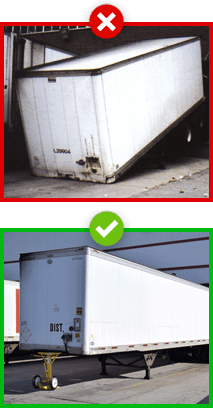 Examples of landing gear collapse and trailer upending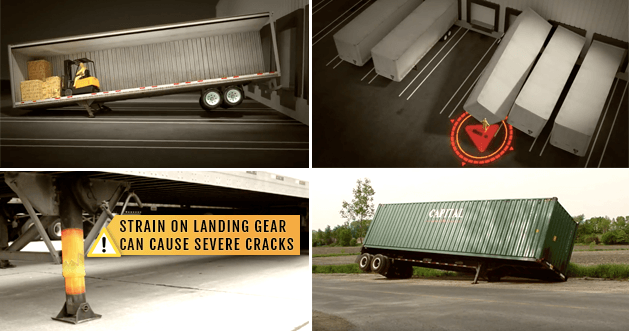 Warranty
• 1 year limited.
Specifications
| | |
| --- | --- |
| Capacity | 100,000 lbs |
| Weight distributing base | 17" x 18.5" |
| Reinforced contact pad | 5" x 30" x 0.25" |
| Tires | 16" diameter solid rubber |
| Additional features | Gas shock self-levelling system with lever locking mechanism |
Videos
AutoStand Plus supporting a free-fall trailer

Witness how AutoStand Plus is able to support a free-fall trailer from collapsing.
 
Related products or services