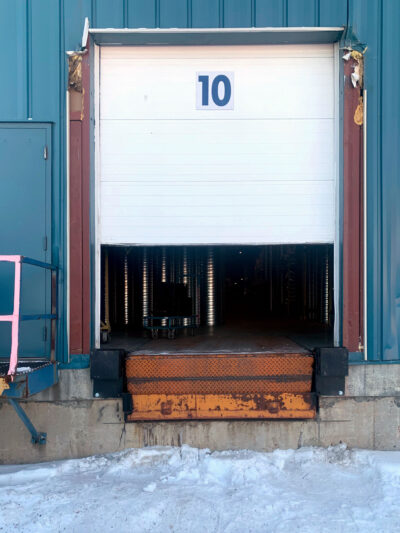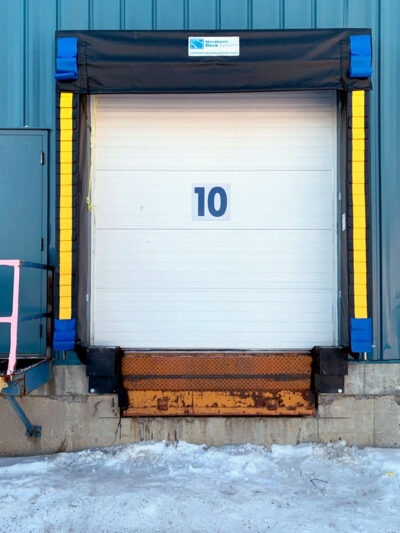 Project Overview
The Edmonton branch of Sinclair Supply had missing and damaged dock seals and dock bumpers.
Northern Dock Systems supplied and installed new dock seals and dock bumpers to protect their building from truck impacts while sealing in energy savings.
As an approved contractor for Emissions Reduction Alberta, we were able to secure a $1,500 energy rebate ($750 for each door). These foam frame dock seals with adjustable head curtains provide a tight seal for a wide range of truck heights and are great for door openings up to 9′ x 10′.
To protect their investment of new dock seals, we also replaced their old and worn laminate dock bumpers with steel face dock bumpers. As a result, these new dock bumpers will stop the dock seals from being overcompressed and extend their life expectancy.
When installing dock bumper and dock seals, getting the right projection and placement is key. This is why we installed 3" risers on the bumpers to ensure the dock bumpers are in the right place to give the best protection against the impact of backing up trucks.
One-Time Energy Rebate for Dock Seals

Discover Your Energy Rebates, Annual Savings and ROI
Get energy rebates in select areas of Ontario, Alberta and BC. Contact us today to begin the process! We'll calculate your one-time energy rebate, ongoing energy savings and return on investment.
Location:
Edmonton, Alberta