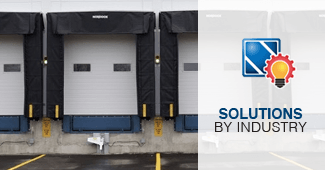 Solutions by Industry
Experts in Servicing Docks and Doors in All Industries
We service all types of industrial and commercial docks, doors and other loading dock equipment in a wide range of industries.


Make customers browse inside stores for a longer period of time by enhancing indoor comfort. Prevent contaminant infiltration and increase energy-efficiency to meet corporate social responsibility goals quicker. View retail solutions »

Keep your products cold without sacrificing employee comfort or workplace safety. Combine the temperature separation power of our energy-efficient products and receive significant energy rebates. View cold storage solutions »


Increase throughput and reduce energy consumption with high-speed operators, sleek high performance doors and other products that create a better indoor environment for employees and customers. View automotive solutions »

Create cool, comfortable temperatures for farm animals to prevent sickness and increase productivity. Maintain great air quality to keep produce fresh and healthy, reducing spoilage. View agricultural solutions »
Request a Needs Assessment Consultation
Talk with a project manager to find a solution based on your industry! Fill out your request for a needs assessment and we will respond within one business day.