Careers at Northern Dock Systems
Find Your Path
We're always on the lookout for Field Technicians, Service and Sales Representatives. If you would like to work for a leader in the dock and door industry, we would love to have you on the team!
Product Showcase and Charity Event
Northern Dock Systems hosts Annual Product Showcase and Customer Appreciation Events for customers across Ontario. Our customers connected directly with manufacturers, installation specialists and project managers to discuss energy-saving solutions and ways to improve workplace safety, efficiency and indoor comfort. At the 2022 event, seven company divisions and 18 products were on display from leading manufacturers including Blue Giant, Hormann, SDI, Berner, and more.
Team Building Events
All departments from Northern Dock Systems participate in team-building exercises and workshops throughout the year. This includes teams answering questions including topics about the industry and company processes. These events are spread out across our offices and work to better understand new ways to improve our company and the customers' experience.
Where We Work
We have multiple office locations across Canada:
Mississauga, Ontario
Cambridge, Ontario
Ottawa, Ontario
Calgary, Alberta
Surrey, British Columbia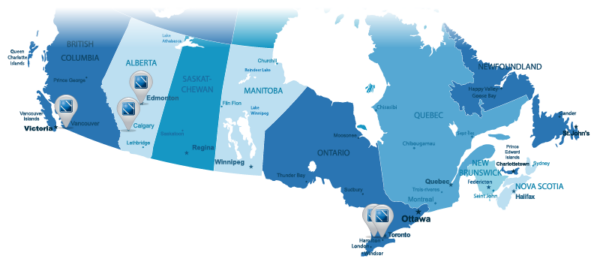 Continuous on-the-Job Training
Friendly and Supportive Team
Health, Dental and Wellness Benefits
Team-Building Activities and Lunches
Committed to Employee Safety
Open Door Policy Focused on Respect and Innovation
Challenging and Rewarding Work Environment
Annual Bonus Program to Give Thanks Where it is Due
Gives to Charity and Hosts Charitable Events

What People are Saying
Read our employee testimonials to find out how Nothern Dock Systems can help you reach your career goals.
"Northern Dock Systems is a great place to work. I have been with the company for almost 10 years and have enjoyed it thoroughly. Those in Sales and Project Management are trusted to work hard and independently – are supported well by Management and offered the opportunity to increase personal earnings every year. The opportunity to work with other departments presents itself often – which brings a collaborative feel to the job, which I enjoy. I have great clients and co-workers – many of whom have become close friends outside of work."
"Northern Dock Systems is a great place to work. The team I have been surrounded by since starting has been wonderful and supportive. Since I've started, my role has expanded, and I learn something new every day. I'm looking forward to growing even more with this company as the opportunity for growth is always present and encouraged by management.

We work every day to solve the issues at hand and we always put the customers needs first. This is definitely a place to work if you like problem solving, thinking on your feet and a team that is fun to work with and will support you whenever you need it."
"Northern Dock Systems is a great place to work.  I've been working with the group for many years and they are a dedicated, honest and loyal group of individuals.  We all share the same passion and we respect each other and all strive to do our best every day.  Great group of people to work within a fast moving and growing environment. "
"As a new employee I can say that I am really impressed with the systems, the helpfulness and the general "team" spirit I have experienced since joining"
"There's an emphasis on continuous growth and constant improvement. We're all striving to become better and surpass our goals.

Everyone on the team is super supportive and friendly. Also, celebrating individual wins and a job well done is a big part of the culture."
"Our company is a fast-paced, positive, safe and rewarding working environment for all employees. There are lots of training and advancement opportunities for everyone to take advantage of. Very well-trained, organized, open and knowledgeable management work alongside technicians and office staff. Everyone is treated equally."
"Fast-paced, very safety oriented, great open door policy–a really well-run company. I like that we think outside of the box and provide opportunities using different talent streams. I am very impressed with the opportunities to make some really good money."
"The open-concept work space encourages teamwork and open communication while fun company events bring the team together. There's lots of room to learn and grow at this company that likes to promote from within."
"Working at Northern Dock Systems is a rewarding experience. We are always helping Canadian companies improve their businesses in positive and innovative ways. I truly enjoy the collaborative efforts from all departments and support from senior staff.

This is a fast-paced environment that leverages technology and teamwork to give customers excellent customer care. From service to sales, logistics to accounting I am proud to contribute to the company's goals and look forward to this growing organization."
"At NDS, I get to know every individual that works for the company over our company lunches and team-building activity sessions. As a person who enjoys staying busy, I have the flexibility to help out in any department to develop different skill sets for my professional growth."
"I work alongside some of the most dedicated team of professionals. We all work towards a common goal: ensuring our customers are well taken care of by recommending the right solution for their needs. Plus, who wouldn't want free BBQs in summer?"
Where to Follow Us
Be sure to follow us on social media to find out for yourself! Discover why Northern Dock Systems is a great place to work.