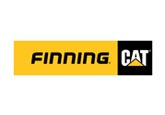 A customer success story from Northern Dock Systems
Project overview
Finning's distribution facility in Calgary, Alberta were seeking a high-speed door solution that would improve their productivity and increase overall workplace safety for their employees.
As per Finning's safety guidelines, no employees were allowed to pass under an overhead door without being protected by an overhead enclosure (such as a forklift), which caused certain workplace inefficiencies.
Northern Dock Systems supplied and installed a Four-Fold door, which:
• Completely eliminated a door hanging from overhead.
• Opens significantly faster than their previous overhead door, resulting in saved time, improved worker productivity and better energy conservation.
• Maintains a clear line-of-sight through the door opening, unlike overhead doors which can get accidentally impacted if a heavy equipment operator passes through without the door fully being open.
• Increases reliability through its rugged design, reducing long-term maintenance costs.