24/7 Emergency Repair Services for Industrial and Commercial Loading Docks and Doors
Requesting Emergency Repair Services Has Never Been Easier
Our dedicated emergency service team is here to help ensure your business is working safely and efficiently 24/7, 365 days a year. With our strong KPI tracking system, we can guarantee our quick response times, speedy completion times and high first-time fix rates to decrease your business' downtime and increase your efficiency. Call us toll-free at 1 (866) 601-1758 or email us at service@northerndocksystems.com and convey your service needs to our one of our dedicated department personnel. Ensure your business is back up and running as soon as possible by getting in touch with us.
Industrial and Commercial Emergency Repair Service Conducted by Certified and Trained Professionals
Northern Dock Systems' emergency service team is trained to inspect and repair all types of loading dock equipment including:
• Sliding and barrier gates
• HVLS ceiling fans
• Dock levelers
• Lift tables
• Trailer restraints
• Fire doors (drop test available)
• Sectional doors
• Overhead dock doors
• Rolling steel doors
• Pedestrian doors
• Sliding doors
• High-speed fabric doors
• Drive-thru doors
• Automotive dealership doors
• Pharmaceutical doors
• Multi-blade doors
• Freezer doors
• And more
&nbsp
Decrease Downtime with Trained and Prepared Professionals
Our certified field technicians arrive prepared onsite with the right tools, parts, digital manuals and expert knowledge to fix the issue on the first visit to minimize your facility's downtime.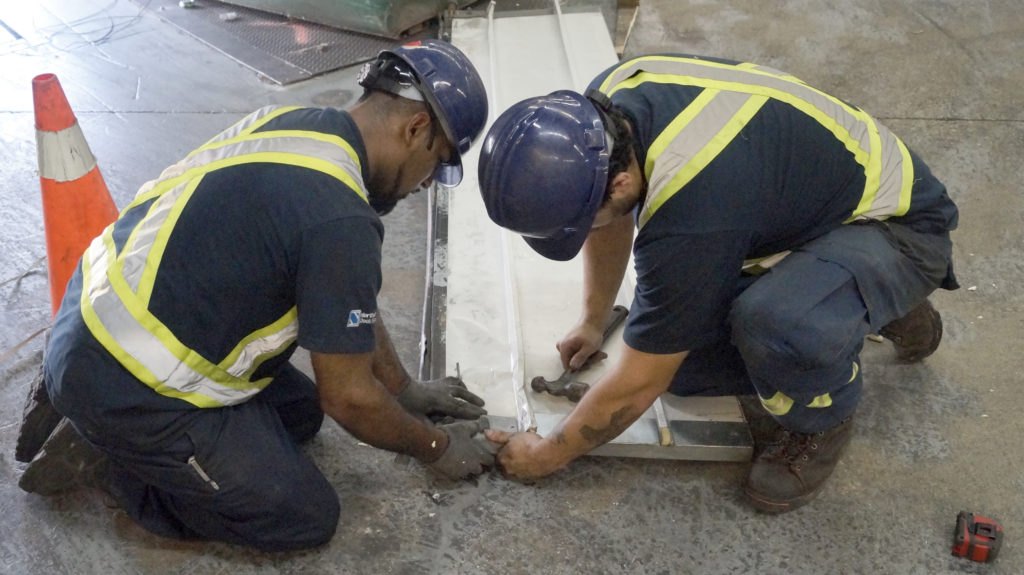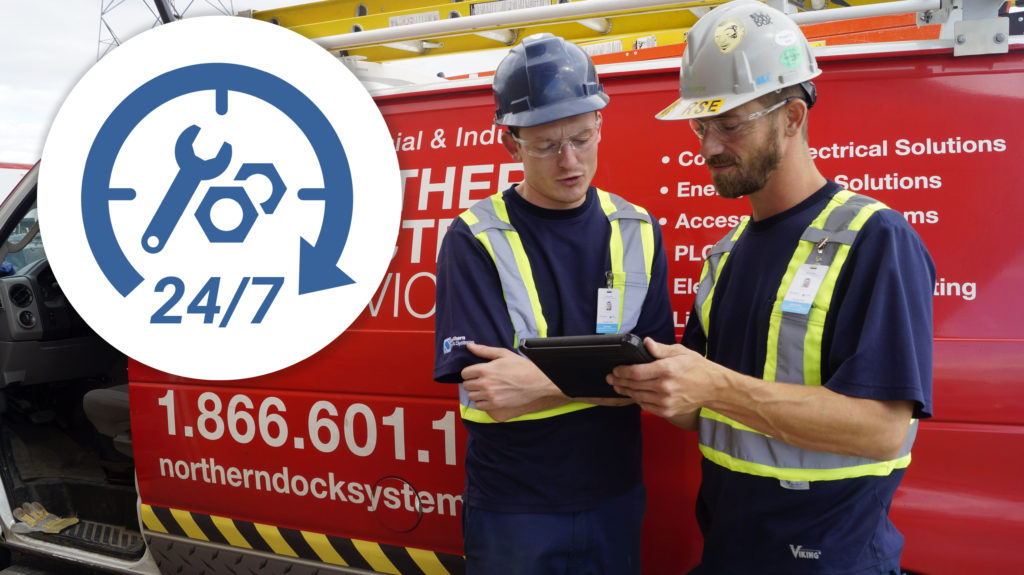 24/7 Availability – We Work on Your Schedule
Northern Dock Systems has team members available 24 hours a day. We work around your business schedule on weekdays, weekends or after-hours. Never let a broken spring, door panel or operator prevent you from using your loading docks. We have team members across Canada to get you back up and running quickly. Our goal is to work with you on your schedule to get your facility back up and running faster.
Dispatch Locations Across Canada for Faster Service
Northern Dock Systems uses zoned dispatch locations across Canada. Using zoned dispatch locations allow technicians to reach your site faster during emergencies, preventing prolonged downtime and unnecessarily high travel costs.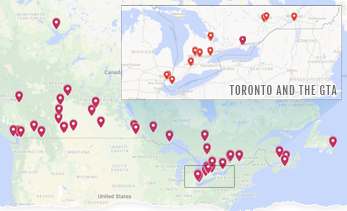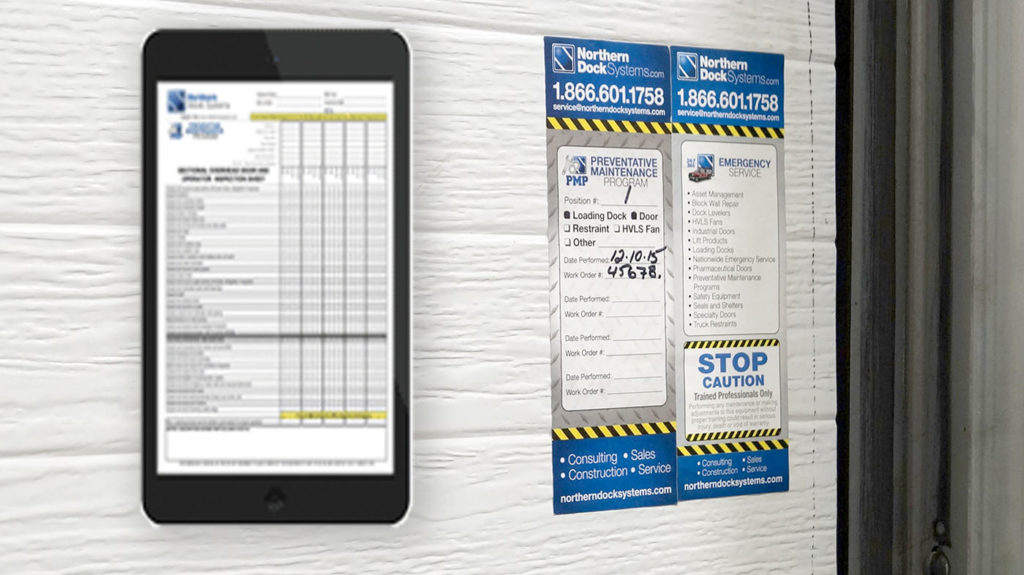 Detailed Service Inspections – Pass Audits and Increase Operational Lifetime
Our technicians are trained to inspect and repair all types of loading dock equipment. From inspecting and lubricating hinges to adjusting spring tension, our detailed multi-point inspection sheets ensures your service is as thorough as possible. Also, we will give you a detailed report for your records for when auditors come by for their inspections.
What Gets Measured Gets Done
Northern Dock Systems tracks key performance indicators (KPIs) during the entire process, from the time your phone call is picked up, to time it takes the technician to reach your location, to completion times and to time it takes our finance department to issue your invoice. We strongly believe what gets measured get done more efficiency and quickly, which decreases our customers' downtime and increase their productivity.
Response Times – Faster Dispatch Times
We have optimized and implemented our dispatch systems to ensure that our response times are fast and accurate. All of our dispatchers get live updates on the GPS locations and schedules of all of our technicians to ensure we are able to get a technician to your site as soon and as accurately as possible. Once we have confirmed the all of details, we will send you an email to let you know when the technician will arrive at your site to give you the ease and comfort knowing that someone is on their way to fix the issue.
First-Time Fixes – Doing It Right the First Time
Our team of experienced technicians are equipment with the right knowledge, tools and support to make sure that the job is done speedily, properly and without unnecessary expenses on the first visit. All of our technicians are experts in servicing overhead doors as they are industry certified and in-house trained to solve any problem. In addition, we ensure they are prepared with all the right parts and tools on their truck along with having digital manuals and inspection checklists on their mobile device. So, when they hit the road, they can fix the problem on the first visit and minimize your facility's downtime.
Completion and Part Times – Keeping You in the Loop
We believe that strong communication is key with any project. If your project requires a second visit or needs an uncommon part, we will track how long it take to get the part in and for us to complete the project. We will keep you in the loop by sending you emails with the new estimates, when the parts are ordered, when the parts are ready and when the job is completed.
The Northern Dock Systems Difference
Multiple Technicians on-site
Fast response times
Root cause discovery
First-time fixes
KPI tracking, because what gets measured gets done
Full, online reference library including part numbers, service manuals and troubleshooting guides
Online chat and email support
Manufacturer support
Comprehensive reports for your records and audits
4.36 Average Star Rating for Service
Out of 5 on our Service Customer Feedback Form as of March 19, 2020
Service Centers and Warehouses Across Canada
We service from coast-to-coast in Canada, some of the key areas we service are:
• Oakville
• Milton
• Mississauga
• Brampton
• Etobicoke
• Toronto
• Vaughan
• Concord
• Richmond Hill
• Scarborough
• Oshawa
• Picking
• Whitby
• Calgary
• Airdrie
• Red Deer
• Edmonton
• Lethbridge
• Cambridge
• Kitchener
• Waterloo
• Hamilton
• Brantford
• And many more!
Our Customers Recommend Our Services

"The two technicians that came in were very helpful and had a great attitude while fixing our two most pressing issues. After they fixed the first door, I could tell they were tired but they stuck around to help us with another dock door and were able to fix it as well."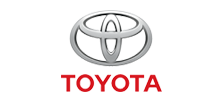 "I would like to the NDS team for taking care of our service shop door issue. The door into the service shop wouldn't close flush with the ground and would not close on its own without holding the button down. We greatly appreciate the level of service we have received from the team at NDS, and thanks to them we now have a fully operational shop door ready for the busy weekend rush."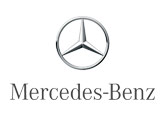 "I wanted to express my gratitude for your very prompt and professional assistance in repairing and servicing our broken overhead garage door. Your ability to provide immediate solutions to our needs went above and beyond expectations. I thank you and look forward to a long relationship together."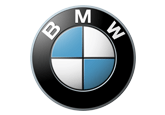 "On behalf of the team at Policaro BMW and the Policaro Group, I just want to take this opportunity to thank you for your quick response and action with respect to the damaged overhead door in the Service Department at our BMW facility. In addition to the repairs, you were also able to pinpoint the cause of why this happened, with respect to the proper operation of the door controls. Your instruction to myself and some of the team members at BMW was invaluable in highlighting to us the dos and don'ts of the proper operation of the door controls…hopefully we've all gained some knowledge from this and learned a lesson."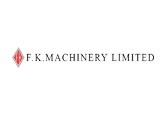 "I find your Service department very easy to deal with, never an issue booking an appointment and the service people arrive quickly. Your Techs are great at answering my questions about what mechanical problems they find which is nice because I just like knowing what they found out of my own curiosity. They also do very clean work, which in the past with other companies, it looks like a mess when they leave. Overall, you guys do good work making sure our equipment is operational and safe."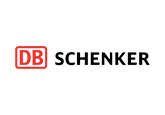 "Placing the service call was easy. Prompt and efficient service received."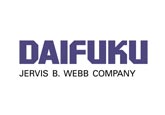 "The Service department was quick to resolve our issues and the staff was fantastic."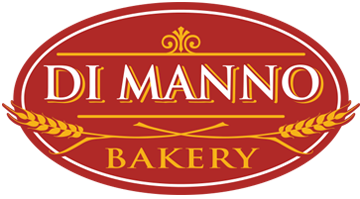 "Your tech's attitude, flexibility and skills are high and happy to work with you guys."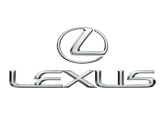 "Thank you for dispatching a repairman on a short notice. You wrote the book on good customer service. Much appreciated."