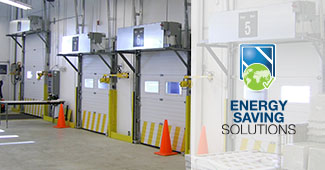 Energy-Saving Solutions
Average Return on Investment in 2 Years*
*May differ depending on your facility
Air Curtain Rebates

Pedestrian Doors (No Vestibule)

3' x 7' - $300*
6' x 7' - $400*
6' x 8' - $500*

For double doors, double incentive.

Pedestrian Doors (with Vestibule)

3' x 7' - $200*
6' x 7' - $300*
6' x 8' - $400*

*For double doors, double incentive.

Shipping Doors (Drive-In)

10' x 10' - $3,250
12' x 12' - $5,000
14' x 14' - $7,500
16' x 16', 18' x 18', 20' x 20' - $8,750

Shipping Doors (Dock-In)

8' x 8', 8' x 9', 8' x 10' - $2,750
10' x 10' - $3,250

Dock Door Seal Rebates

Compression seal (8' x 8', 8' x 9', 8' x 10') - $650
Shelter seal (10' x 10') - $1,650

Maximum of 50 percent of equipment cost.

Destratification Fan Rebates
Air Curtain Rebates

Shipping Doors Dock-In or Drive-In

8' x 8', 8' x 9', 8' x 10' - 50% or up to $3,750
10' x 10' or larger than 100 square feet - 50% or up to $4,500

Pedestrian

Single 3' x 7', 6' x 7', 6' x 8' - 50% or up to $300
Double 2x(3' x 7', 6' x 7', 6' x 8') - 50% or up to $600

Door Dock Seal Rebates

Compression 8' x 8', 8' x 9', 8' x 10' - 50% or up to $750
Shelter 10' x 10' or larger than 100 square feet - 50% or up to $1,400
Air Curtain Rebates
20 to 50 square foot openings (e.g. single doors) - $1,300 per door
51 to 100 square foot openings (e.g. single or double doors) - $1,800 per door
Greater than 100 square foot openings (e.g. garage-style doors) - $2,000 per door
&nbsp
Energy Savings and Incentives for Ontario, Alberta and BC Businesses
We are proud to be working with Enbridge Gas, Emissions Reduction Alberta and Fortis BC to offer incentives and expert advice to help industrial and commercial businesses across Ontario and Alberta save energy, increase profits and lower costs.
We have been recognized by Enbridge Gas Distribution as a leading facilitator of commercial energy-saving solutions and rebate programs. Over the years we have helped numerous businesses across Ontario save:
If you're looking to lower your energy bills and improve your facility's energy efficiency, this rebate program is perfect for you. Get rebates to install or retrofit these energy-saving equipment to any new construction or existing building:
&nbsp
Join the hundreds of Ontario, Alberta and BC businesses that have already taken advantage of these rebates to save money right away and energy year-round. Contact us today to learn more about your eligible savings on these energy-saving solutions.
Leave the Install to the Experts
We have years of experience and are an expert in directly installing and servicing energy-efficient products. Trust us to install and service your equipment to ensure a trouble-free operation for years to come.
Trusted and Accredited
The certificates, accreditations and memberships verify Northern Dock Systems as a trusted source for providing exceptional service and industry-leading products. We have been working with various companies across Canada since 2002 for installations, construction, retrofitting, and conducting on-site audits and consultations. Our certifications, accreditations and memberships include: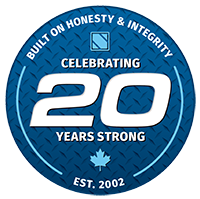 Our Customers Recommend Our Services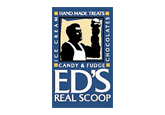 "Our air barrier is amazing—you can feel it working as soon as you open the door. I can see how this product will save us on our energy bill by keeping the weather outside. The NDS team were a pleasure to deal with, and the install was very professional. We will be installing air barriers and using Northern Docks Systems across all our locations."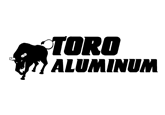 "After the installation of a few MacroAir HVLS Fans, we've seen a positive impact in equalizing temperatures throughout our facility which resulted in significant gas savings."

"This past week with it being so cold we have noticed that the air barriers have stopped the cold from getting in and the fan keeping the warm air moving, allowed us to work in t-shirts because we are so comfortable."
Success Stories for Energy-Savings
We installed (4) air curtains with a $31,000 one-time energy rebate on these large warehouse door openings to save on energy and improve indoor comfort.