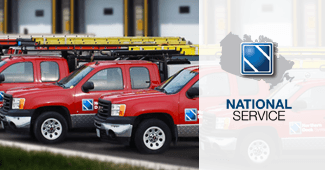 National Services and Equipment Installations from Coast-to-Coast in Canada
Scaling Locally, Delivering National Impact
Offering Flexible Pricing and Service Options to Enhance Your Operational Efficiency and Safety While Staying Within Your Budget
With over 15 years of experience in the field, Northern Dock Systems has consistently delivered prompt and professional emergency services, equipment recommendations and proactive Preventive Maintenance Programs to companies throughout Canada.
Standardized Process
We provide an easy to follow, standardized processes across all your Canadian operations for consistent service and installation support.
Single Point of Contact
A dedicated National Account Manager will be your single point of contact to oversee all projects.
24-Hour Support
Round-the-clock emergency phone support is available by calling our toll-free line:
1-866-601-1758.
Working Within Your Budget
We offer detailed invoicing and expense tracking with asset management, outlining every product and service per location.
Optimized Workflow Solutions
Our National Services team utilizes SAP, Officetrax and Centah software to enhance your customer experience with us by optimizing workflows.
Quality Control Inspections
Thorough quality control inspections are frequently done at random to ensure all technicians continue to deliver great service.
Major Canadian Businesses Trust Our Services:
Local Dispatch Zones With Fully Equipped Trucks
Zoned Dispatch Locations: Saving You Money
Northern Dock Systems uses zoned dispatch locations across Canada. Using zoned dispatch locations allow technicians to reach your site faster during emergencies, preventing prolonged downtime and unnecessarily high travel costs.
Fully Equipped Vehicles: The Red Truck Does It All
Our service vehicles are fully equipped with all the tools needed to complete any on-site job from start to finish. In addition, each technician is equipped with a full, online reference library that includes product part numbers, service manuals and troubleshooting guides for all Northern Dock Systems' and competitor's products.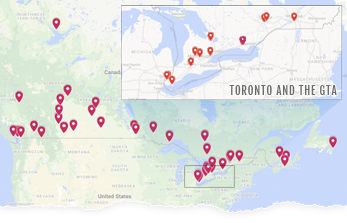 Our Process
Step 1 – Conduct a Needs Assessment
Northern Dock Systems' technicians use a multi-point Needs Assessment checklist to outline any inefficiencies or risks associated with your equipment to help you prepare for facility audits. All Needs Assessments are highly customized to meet your specific operational needs.
Step 2 – Onboard All Resources
Following the Needs Assessment, our technicians are well-informed of your operational requirements and work on a plan to implement any services or new equipment installations you may require. During this time, our dedicated National Service department comes up with a 90-day plan for your business' key locations and allocates the necessary field resources by location to save you money on dispatching costs.
Step 3 – Execution and Regular Follow-Up
Whenever any maintenance work is completed, Northern Dock Systems' technicians train your staff on how to operate any new piece of equipment or how to better maintain existing equipment. Our service department maintains periodic communication via email with the headquarters of your company to keep them informed about any opportunities for improvement, upcoming services and services that have been completed.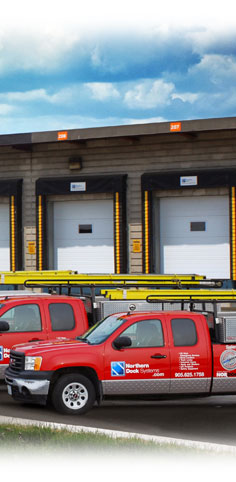 What Gets Measured Gets Done
Northern Dock Systems tracks key performance indicators (KPIs) during the entire process, from the time your phone call is picked up, to time it takes the technician to reach your location, to completion times and to time it takes our finance department to issue your invoice. We strongly believe what gets measured get done more efficiency and quickly, which decreases our customers' downtime and increase their productivity.
Response Times – Faster Dispatch Times
We have optimized and implemented our dispatch systems to ensure that our response times are fast and accurate. All of our dispatchers get live updates on the GPS locations and schedules of all of our technicians to ensure we are able to get a technician to your site as soon and as accurately as possible. Once we have confirmed the all of details, we will send you an email to let you know when the technician will arrive at your site to give you the ease and comfort knowing that someone is on their way to fix the issue.
First-Time Fixes – Doing It Right the First Time
Our team of experienced technicians are equipment with the right knowledge, tools and support to make sure that the job is done speedily, properly and without unnecessary expenses on the first visit. All of our technicians are experts in servicing overhead doors as they are industry certified and in-house trained to solve any problem. In addition, we ensure they are prepared with all the right parts and tools on their truck along with having digital manuals and inspection checklists on their mobile device. So, when they hit the road, they can fix the problem on the first visit and minimize your facility's downtime.
Completion and Part Times – Keeping You in the Loop
We believe that strong communication is key with any project. If your project requires a second visit or needs an uncommon part, we will track how long it take to get the part in and for us to complete the project. We will keep you in the loop by sending you emails with the new estimates, when the parts are ordered, when the parts are ready and when the job is completed.
The Northern Dock Systems Difference
Multiple Technicians on-site
Fast response times
Root cause discovery
First-time fix
KPI tracking – what gets measured gets done
Asset management
Full, online reference library that includes product part numbers, service manuals and troubleshooting guides
Online chat support
Email support
Manufacturer support
Internet access
Comprehensive reports for your records for your audits
4.36 Average Star Rating for Service
Out of 5 on our Service Customer Feedback Form as of March 19, 2020
NDS Technicians to Take Preventive Measures on Servicing Their Equipment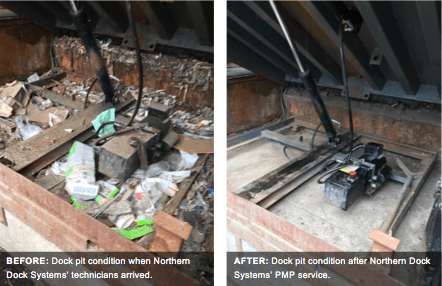 Photos

Detailed report

Quotes for major and minor repairs

Master list of major and minor repairs
Prevent Avoidable Downtime and Damage to Your Equipment With Regular Maintenance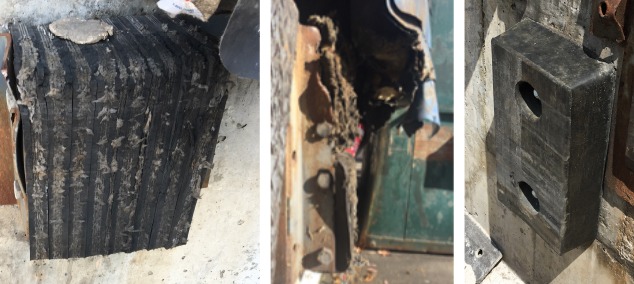 Worn out dock bumpers

White light infiltration and damaged doors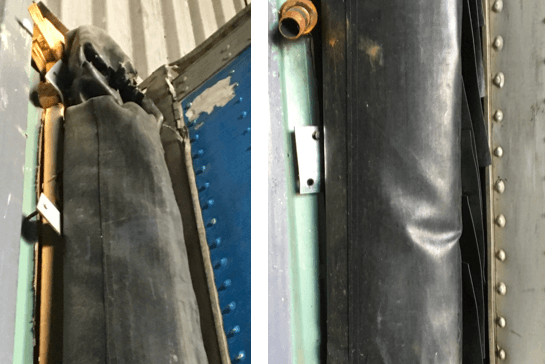 Overcompressed dock seals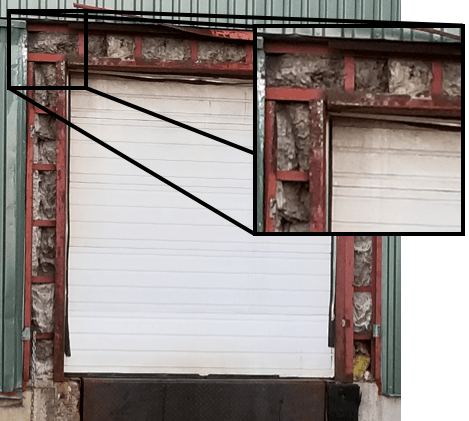 Torn dock seals
Our Customers Recommend Our Services

"The two technicians that came in were very helpful and had a great attitude while fixing our two most pressing issues. After they fixed the first door, I could tell they were tired but they stuck around to help us with another dock door and were able to fix it as well."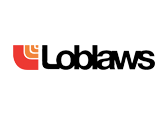 "They responded and action the service request quickly as well as provide updates and ETA"

"New plates are all installed and look great. The two installers were amazing. They were fast, professional and did a couple of over and aboves that they didn't really need to do. They were great."