Long-Lasting Hydraulic Dock Levelers
Blue Giant's high-performance hydraulic dock levelers are easy to operate with the touch of a button. Strategically welded enhanced beams provide an exceptional level of structural sturdiness, improving product lifetime.
✓ Easy operation: Open and close the hydraulic dock leveler with a push of a button, unlike mechanical dock levelers which require workers to manually open and close the dock lip, causing workplace injuries to the neck, shoulders and back.
Information
Available in 30,000, 35,000, 45,000, 60,000, 80,000 and 100,000 Load Capacities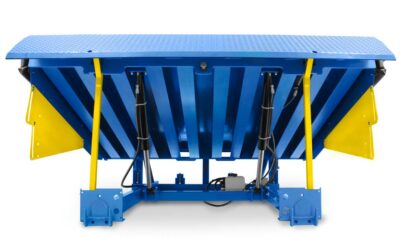 Extreme Model with Dual Deck Cylinders
Enhanced Beams for Strength
Each hydraulic dock has 8-10 J-beam (I-beam for Extreme and Ultra models) channels that are welded to the underside of the deck. These beams are welded at dynamic impact points to prevent warping and extend the lifetime of the dock leveler.
Less Maintenance
The inverted deck cylinder is continually self-bleeding, reducing internal corrosion and improving velocity fuse efficiency. Also, it prevents dust and debris from clogging up the cylinders.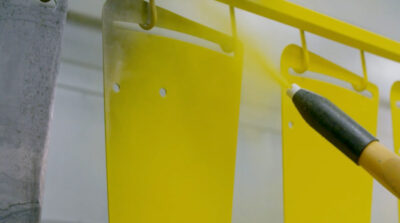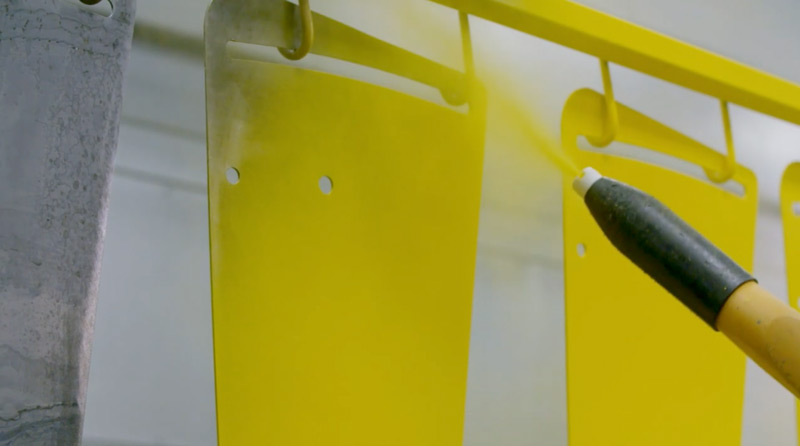 Rust-Resistant Powder Coat
The only hydraulic dock leveler in North America to feature a powder coat finish as a standard. This Blue Giant's powder coat finish provides a long-lasting and rust-resistant finish and colour. It is available in blue, black, grey and yellow.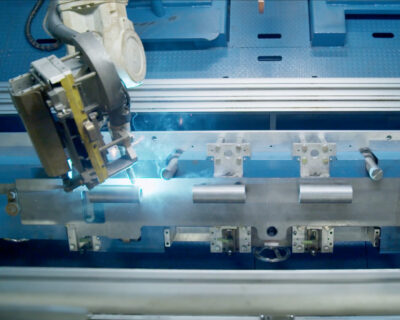 Consistent Quality and Strength
The Blue Giant's state-of-the-art robotic welding ensures structural integrity and uniform quality. Get peace of mind knowing that every weld has the same quality and care put into it.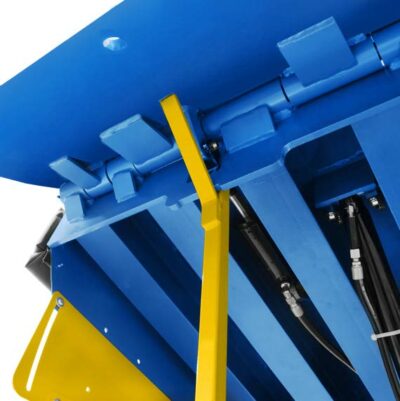 Advance Engineering
While the continuous one-piece headboard and single lip hinge pin enhance unit stability, enabling a stronger distributed load.
For 3 or 4 Wheel Forklifts
Additionally, the 7′ dock features just 6″ (152mm) of space between beams at the center. As a result, the dock is suitable for 4 or 3 wheel forklifts as a standard.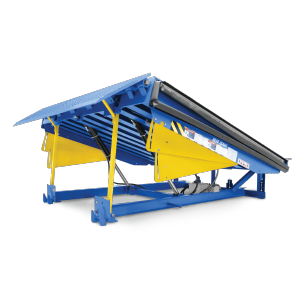 Extreme Model with Dual Deck Cylinders
Improve Safety
In the unlikely event of premature truck departure, the velocity fuse limits free-fall of a loaded platform to a maximum of 3″ (76 mm).
In addition, the stationary side toe guards with high-visibility OSHA safety striping and ANSI compliant safety yellow full operating range metal toe guards reduce the risk of foot-related injuries at the loading dock.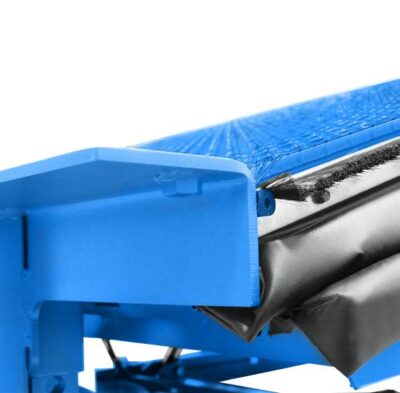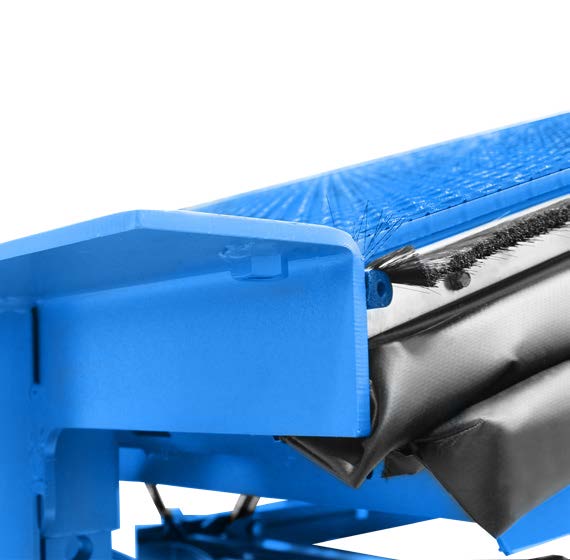 Deck Flex Advantage
Ideal for normal loading conditions, the fixed rear hinge design allows the deck to flex up to 4″ when under load to ensure full-width contact between the lip and the truck bed.
The deck remains flush with the floor to eliminate pinch points and cross traffic obstruction.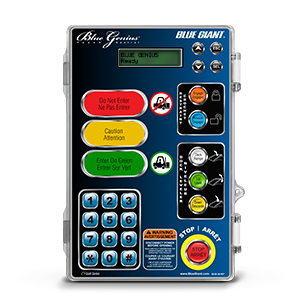 Blue Genius Gold III Control Panel
Easy to Operate
Food and Pharmaceutical Safe
The NEMA4X (moisture and corrosion resistant) push-button control station enables sequenced deck and lip operation.
Maximize unit versatility with optional independent lip control that drastically reduces cycle time and energy use—perfect for below level or end-loading applications.
The control panel can be upgraded to a Blue Genius Gold control panel to integrate with your trailer restraints, doors and/or dock lights.
Model Comparison Chart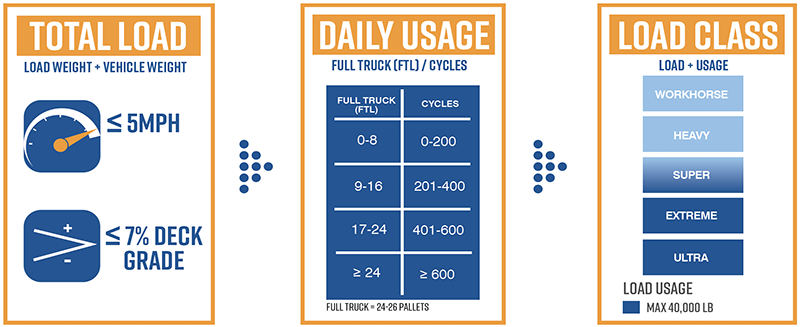 | | | | | | |
| --- | --- | --- | --- | --- | --- |
| | Workhorse (W) | Heavy (H) | Super (S) | Extreme (E) | Ultra (U) |
| Load Class (Acutal Input Load) | 12,500 lbs | 19,000 lbs | 26,000 lbs | 33,000 lbs | 40,000 lbs |
| Load Capacity | 30,000-35,000 lbs | 35,000-45,000 lbs | 45,000-60,000 lbs | 60,000-80,000 lbs | 80,000-100,000 lbs |
| Number of Deck Cylinders | 1 | 1 | 1 | 2 | 2 |
| Number of Deck Cylinders | 1 | 1 | 1 | 2 | 2 |
| Structural Beam Style | J-Beam | J-Beam | J-Beam | I-Beam | I-Beam |
Customizations
Lip Length 16" (406 mm) Standard, 18" (457 mm) or 20" (508 mm)
No-Shim™ dock frame or closed pit dock frame
Energy Seal Plus
Biodegradable oil, Arctic oil
Assured Motion Float (floating rear hinge)
Blue Genius Touch Control Panel for independent lip control to decrease cycle and energy use.
Remote Powerpack
DLB (Dock Lip Barrier)
Grease Fitting on Lip Tube
Upgrade control panel to intergrate with trailer restraints, doors and/or dock lights.
Colour Options: Blue, grey or black

Fall-Stop safety barrier gates.
Brush weather seals.
Warranty
Structural (Deck, Frames, Support Beams, Lip and Hinge)
Hydraulics (Powerpack Motor, Hydraulic Pump, Hydraulic Hoses and Hydraulic Fittings)
Related Products or Services