Aluminum polycarbonate door
Aluminum polycarbonate doors set a new automotive standard
Aluminum polycarbonate doors are the affordable long-term solution for high-cycle use in car dealerships, automotive service centres and select industrial applications. Customizable polycarbonate panels provide superior aesthetic appeal and are up to ten times more impact-resistant than plastic.
• Lightweight: Polycarbonate panels put less stress on the door's moving parts (approximately 66% of weight of glass panels).
• Ideal for high-speed operators: Lightweight construction makes polycarbonate panels ideal to pair with high-speed operators for superior efficiency.
• Soft, diffused light: Translucent panels let in diffused light and retain a R-value of 3.4 (actual R-value higher due to light infiltration).
• Complete wash-down application: Panels are ideal for wash-down applications, are easy to clean and can also be used in food facility and processing plants.
• Aesthetic design: Highly customizable door panels complement any building design.
• Extended lifespan: Select upgrades are available for corrosion-resistant polycarbonate door panels to further extend the lifespan of the door.
Comparing an aluminum polycarbonate door to an aluminum door with glass panels
The aluminum polycarbonate door is engineered to be impact-resistant yet lightweight by design. Its polycarbonate material weighs in at approximately 66% of the weight of glass panels, reducing stress on common moving parts including the operator. Translucent polycarbonate panels also let in diffused natural light to create a more modern environment without sacrificing on functionality or strength and are ideal for wash-down applications.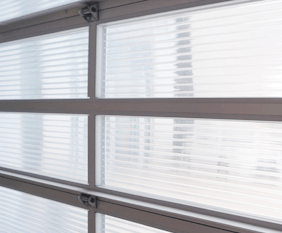 High-cycle application: Pair with a high-speed springless Safedrive operator
The aluminum polycarbonate door is often paired with the high-speed springless Safedrive operator for environments demanding high-cycle activity.
The springless Safedrive operator turns any standard overhead door into an energy-efficient door with has incredibly fast opening speeds of up to 100″/second. Increase operational efficiency, throughput and worker productivity and eliminate costly spring repairs or replacements with Safedrive's springless design.
Extensive customization options
The aluminum polycarbonate door has a variety of customization options to perfectly complement any building design, including a customized blackout panel, designed in conjunction with Northern Dock Systems.
The revolutionary blackout panels were specifically designed for a Jaguar dealership in Ontario to prevent any reflection of light when flash photography was used to take a snapshot of new vehicles.
To read more details about the custom blackout panel, read our full customer success story with Jaguar.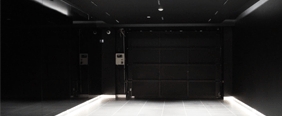 Customers that love this product
Customizations
• Custom panel design options including blackout panels to prevent light reflection.
• Exhaust ports.
• Custom anodized finishes.
• Custom colour, Duracron Super 600 thermo-setting acrylic enamel.
• Double-sided, reinforced kick panels in bottom section.
Warranty
• 1 year limited.
Specifications
Finish
Clear anodizing to AA Spec A-21. White Duracon Super 600 thermo-setting acrylic enamel.
Weatherstripping
Neoprene bulb weatherstrip for bottom of door and dual finned seals between sections.
Sections
Section framing: 45mm (1 3/4") thick sections fabricated from 6063-T6 aluminum alloy extrusions.
Extrusion thickness: 1.83mm (0.075") and 3.7mm (0.105") at hardware mounting locations.
Panelled sections: Fabricated from 1.29mm (0.05") thick stucco embossed aluminum sheet.
Bottom or top sections: Made of 45mm (1 3/4") steel-polyurethane-steel sandwich panel, CFC-11 free, stucco embossed, ribbed reinforced, white, thermal values of RSI=2.84 (R=16.4); USI=0.34 (U=0.061).
End stiles
86mm (3 3/8") wide for single end roller brackets; 162mm (6 3/8") for double end roller brackets
Center stiles
50mm (2") wide, pair of meeting rails: 83mm (3 1/4") high. Top and bottom rails 86mm (3 3/8") high.
Reinforcement
3.7mm (0.09") thick extrusions for hardware mounting. Full width integral horizontal reinforcing truss at each pair of meeting rails (minimum depth of 44.5mm (1 3/4").
Related products or services