MxV knock-out door flexes and releases during accidental impact
See the MxV knock-out door in action as it flexes and releases its lightweight, insulated panels during accidental impact from a forklift. MxV can be knocked out in either direction and reset by simply opening and closing the door.
| | |
| --- | --- |
| | Polyurethane R-22-rated insulation panels create a strong environmental separation and are easy to clean for food and cold storage facilities. |

• Exclusive self-correcting design: After accidental impact, simply open and close to reset.
• Impact resistance: Rugged design resists damage from impact better than other knock-out dock doors.
• Reduce maintenance costs: MxV uses a polypropylene brush seal instead of rollers, allowing for a long-lasting design that has the ability to knockout without costly door damage.
• Insulated panels: All panels are insulated and suitable for refrigerated loading docks.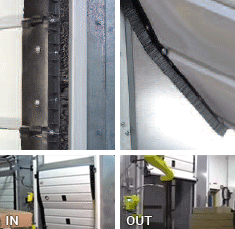 Reduce maintenance costs and keep your operations running at optimum speed
MxV's innovative knock-out design flexes and releases during accidental impact without damaging the door or the track. This knock-out door uses a polypropylene brush (rather than rollers or pins which often need to be replaced) that do not wear or fray. Incorporating a brush design allows the MxV to be knocked out in both directions and reset with ease. MxV is also washable, proving to be the best long-term solution to efficiently seal loading dock areas.
Save energy
MxV's polypropylene brush seal helps to provide a better U-factor and eliminates costly side gaps that result from door damage, rubber seals that wear, improper installation or door size. In addition, MxV also helps reduce heating and cooling costs, lowering the load required to successfully heat or cool a facility during peak hours.
Save time and money
MxV maintains workplace efficiency and productivity by minimizing downtime and maintenance costs using its roller-free and pin-free design that withstands both inward and outward impact forces.
Increase safety
MxV's ease of operation reduces worker fatigue that can be associated with other damaged sectional door panels, rollers or tracks.
To further enhance safety around the loading dock area, add on MxV knock-out door's optional safety features including an insulated vision panel for verification of truck activity, and a track guard to protect the base of the track which is prone to collision damage.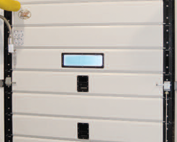 Insulated panels ideal for food and cold storage facilities
The 3″ thick, UV-inhibited and weather resistant PVC panels of the MxV knock-out door are flexible and insulated. Closed cell polyurethane R-22-rated insulation provides superior environmental separation between outdoor and indoor environments, making MxV the preferred door for food and cold storage facilities.
Customizations
• Door lock to protect and secure facility against intruders.
• Insulated vision panel.
• Track guard to protect the base of the track.
Warranty
• 1 year limited.
Specifications
Door size
Up to 10'x12'
Insulation
Closed cell polyurethane R-22
Door reset
Self-correcting by opening and closing
Knock-out capability
Full (top to bottom, pushed inward or outward)
Brush seals
Header: Nylon
Side: Polypropylene
End cap
Injection-molded plastic
Guide tracks
PVC
Torsion springs
Spring cycle: 25 K
Door cables: 5/32" - 7x19 galvanized steel
Shaft: 1" keyed hollow shaft
Bearings: 1" UCF precision flange bearing
Counterweight
Counterweights: Round bar stock
Counterweight cables: 3/16" - 7x19 galvanized steel
Door cables: 5/32" - 7x19 galvanized steel
Shaft: 1" keyed hollow shaft
Bearings: 1" UCF precision flange bearing
Pulley: 6" Delrin with needle roller bearings
Pulley brackets: 12-gauge steel box construction with guides
Related products or services