Four-Fold Doors Provide High-Speed Operation with Maximum Visibility
Fire stations across Canada choose Four-Fold doors when responding to emergencies. Door Engineering's Four-Fold doors use high-speed operators and customizable glass panels to provide maximum two-way visibility and increase throughput.
| | |
| --- | --- |
| | Built to perform for over one million cycles and highly applicable for EMS, fire stations and parking garages for maximum throughput. |
High-cycle application: Four-Fold doors are rated to perform for over one million cycles.
High speeds: Opening speeds of up to 24″/sec minimize heat/cooling loss and increase throughput.
Maximum visibility: Prevent accidental impact from vehicles with maximum visibility during operation.
Easy manual override: Simply pull a cord to operate the doors manually.
Reduced maintenance: Reduce maintenance costs compared to traditional spring overhead doors.
Customizable: Highly customizable design seamlessly blends into any building.
When Every Second Matters, Four-Fold Doors Deliver
Four-Fold doors operate at high speeds averaging 24″/second—speeds which are significantly faster than conventional overhead and coiling doors which operate on average of 8-12″/second. Minimize heating and cooling losses, increase energy efficiency and maximize throughput with Four-Fold doors.

Comparing Speeds: Conventional vs. Four-Fold Doors
For a 14'x14′ opening, Four-Fold doors take less than seven seconds to open, while conventional overhead doors take between 14-21 seconds to open.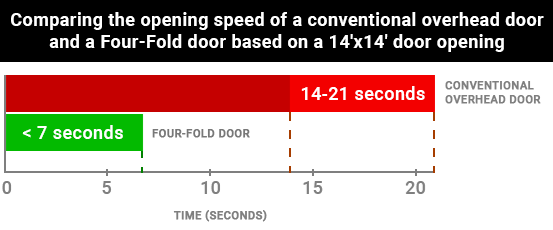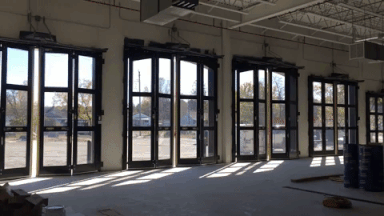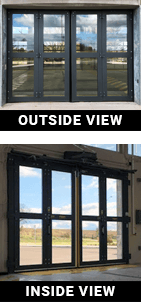 Reliable and Efficient in Emergency Situations
Rated to perform over 1 million continuous cycles with operating speeds of up to 24″/second minimize heat and cooling loss and provide reliability.
Horizontal movement provides maximum visibility during operation at all times for increased safety.
Reduced maintenance compared to traditional spring overhead doors.
Ideal for high use areas including EMS, fire halls and parking garages.
Door immediately stops operation when photo-eyes detect obstructions, however, in case of accidental impact, soft safety edge prevents damage to vehicles and personnel.
Manual operation override with a simple pull of a cord—no springs under tension, chain hoists or heavy lifting required.
Fully customize door panels to suit building aesthetic.
Immediate Stop in Case of Obstruction
Four-Fold doors immediately halt operation in case of any obstructions to prevent damage to personnel, vehicles and the door itself.

Four-Fold doors require less preventive maintenance than conventional overhead doors during its lifetime
Description
Conventional overhead door
15-year outlook
Four-Fold door
15-year outlook
Replacement springs
Failure after 50,000 cycles
($500/set)
Cost: $2,000
None
Cost: $0
Rollers and hinges
Replace every five years
($500 x 5 years)
Cost: $1,500
None
Cost: $0
Bottom sections after collision
Based on two collisions over a 15-year lifetime
Cost: $4,800
None; fully visible operation eliminates collisions
Cost: $0
Preventative maintenance
Done once a year
($500/visit)
Cost: $7,500
Lubricate hinges once a year
Cost: $1,500
Operator maintenance
Done every two years
($250 each)
Cost: $1,875
Done every five years
Cost: $0
Operator replacement
Replace after 10-15 years
Cost: $1,650
Designed for 30+ years
Cost: $0
Total maintenance cost of a 14'x14' door over lifetime

1.70x


initial cost of door

0.06x


initial cost of door
*Estimated costs include parts and labour based on 20,000 cycles per year.
Activation Method
The most important aspect of any door project is deciding on your activation method to:
✓ Prevent the door from being hit
✓ Prevent the door from hitting people
✓ Extend the life of the door
✓ Improve productivity
✓ Decrease downtime and maintenance
✓ Save energy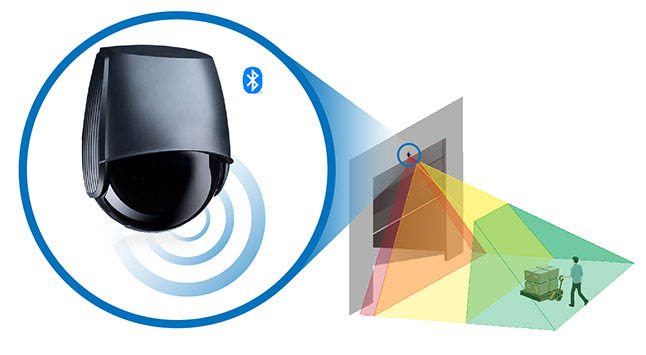 &nbsp
Motion, presence and safety all in one. These sensors can be set to open for only incoming pedestrian or forklift traffic. Speed up workflows by installing or retrofitting dock, industrial, pedestrian and entrance doors with automatic motion sensors. View »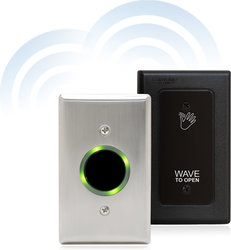 &nbsp
Prevent cross-contamination by never having to touch a door to open it. Install or retrofit dock, industrial and pedestrian doors with touchless wave sensors. View »
Customizations
• 1" insulated vision panels or grilles of the size, shape and location.
• Custom colours and styling available to suit building aesthetic.
• Electric control options: 120VAC single phase, 208VAC single phase, 208/230VAC 3-phase, 480VAC 3-phase.
• Presence sensor: Provide one interior, overhead mounted presence sensor.
• Radio controls: One radio receiver and one single button remote per door. Remotes to open and close doors with single button.
• Timer activation loop detectors (for fire station applications): Provide "pulse on exit type" loop detector to activate auto close timer once loop has been activated and cleared, include hand/auto switch to deactivate timer. G.C. to coordinate installation of preformed loop with installer prior to exterior apron being poured.
Specifications
| | |
| --- | --- |
| Steel tube | ASTM A513 and ASTM A500/A500M |
| Steel sheets | Commercial quality, complying with ASTM A1011/A1011M hot-rolled steel sheet |
| Fasteners | Zinc-coated steel |
| Weatherstripping | Jamb and head weatherstipping of 1/16" cloth-inserted neoprene bulb (or closed cell neoprene) |
| Push-button enclosure and photo-eyes | NEMA-4 rated |
Related Products or Services