Whisper Quiet & Cost-Effective
Learn how the inventors of the HVLS fan have reinvented it. Get an overview of the unique features incorporated in MacroAir HVLS Fans including a direct drive motor, an onboard AirBrain microprocessor, and NASA-engineered wing design.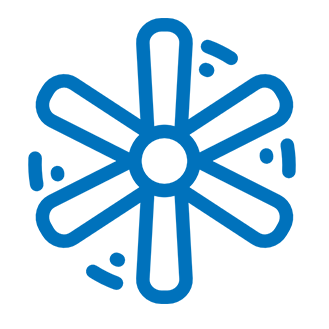 No Need for Pedestal Fans
Lower your energy bills: Save up to 25% on heating costs and up to 30% on cooling costs.

Unrivalled warranty: Stay at ease with warranties for 50,000-hour usage and one-year labour.

Energy rebates: Be eligible for energy rebates in select areas of Ontario.

Low operational cost: Move the most amount of air for the low operational cost of $0.25-$1.50/day.

Maintenance-free: All MacroAir HVLS Fans only have two moving parts. A gearless, direct-drive motor drives the fan without using oil. No oil = no leaks!

Increase worker productivity: These HVLS Fans use evaporative cooling to make workers feel up to 8°F cooler, reducing the number of heat stress breaks.

Improve worker and product safety: Prevent condensation build-up on floors and products.

We have over 10 years of expertise in designing placement setups and installing HVLS fans. We have installed more HVLS fans than any other company in Canada.
What is HVLS and Why is its Technology Revolutionary?
MacroAir HVLS ceiling fans move a High Volume of air at a Low Speed (HVLS). Longer blades create a wider column of air that travels farther than conventional fans, while the low speed provides gentle air movement rather than disruptive wind. In addition, the amount of power needed to drive the MacroAir HVLS Fan is reduced due to its low velocity. MacroAir HVLS Fans result in complete air circulation with nearly silent operation. These fans operate at a minimal cost of approximately $0.25-1.50/day, depending on the model.
Immediately improve working conditions by making employees feel warmer in the winter and up to 8°F cooler in the summer.
Improve air quality and reduce the health risks by circulating fresh air through the facility to prevent inadequate airflow and poor ventilation.
Reduce energy bills by 1% per foot of ceiling height.
Save energy in the summer by raising your thermostat setpoint (save 6% per degree raised).
Equalize temperatures from floor to ceiling and front to back.
Speed up processing times for manufacturing, printers, disaster recovery, etc.
Increase safety by reducing condensation and moisture build-up.
Warm-up large areas 5x faster through even heat distribution.
Improve worker productivity by regulating air temperatures to reduce heat stress breaks.
Can work with your existing HVAC system by helping circulate air to the ceiling to make it easier for your HVAC system to cycle the air.
The Power of 34 Fans in One
One HVLS ceiling fan can do the work of 34 small industrial fans. Save on energy costs on as the single HVLS fan has low operational cost of $0.25-$1.50/day, compared to running 34 fans. Also free up floor and table space, by replacing multiple pedestals fans with a single HVLS fan.
Comparing a Direct Drive Motor to a Traditional Motor
MacroAir Direct Drive Motor:

Up to 20% decrease in weight
No oil, no leaks
Silent operation
No VFD + 3x torque
Slim, sleek design
Zero maintenance
Only two moving parts

Traditional Motor:

Heavy, puts strain on ceilings
Use oil, potential for leaks
Noisy
Separate VFD
Bulky design
Maintenance required
Many moving parts
&nbsp
Prevent Health Risks and Improve Air Quality
HVLS fans circulate fresh air throughout your facility to improve air quality and reduce the health risks from forming because of inadequate airflow and poor ventilation. Poor ventilation and airflow can cause stale warm air, which is a breeding ground for bacteria and other pollutants. These bacteria and other pollutants can cause breathing issues, illnesses and other health issues. It is essential to maintain a fresh air supply and air movement in work areas to keep employees healthy.

HVLS Fans Can Be Used in Both Winter and Summer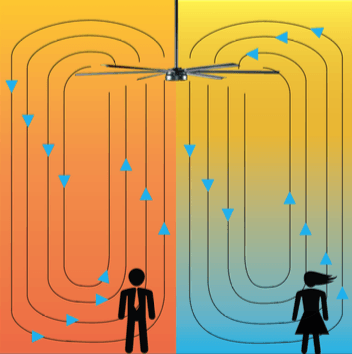 Winter usage (left): Slow-moving air column carries warm air from the ceiling down to floor level.
Summer usage (right): Large air column delivers a cooling breeze across the entire body.

Easy Controls with the Touch of a Button
Controller 4 and Controller 30
Seamlessly control up to four fans or up to 30 fans at one centralized location with a fully-integrated LCD touchscreen panel. Fans can be run at speeds and direction independently of one another or synchronize to give you optimal fan control.
Take your smart controls even further by adding a MacroAir Temperature Sensor. Fans on your network will start and stop based on your desired temperature threshold to take the guesswork out of providing maximum comfort.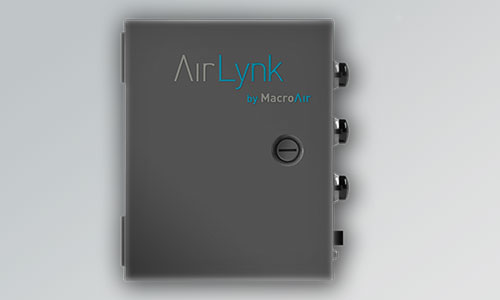 AirLynk BMS Integration
Do you work in a building or facility controlled by a Building Management System (BMS)? Now you can integrate your HVLS fans into your existing building management system to control and automate all the fans in your facility. No need to add a new control panel, just add your HVLS fans to your BMS console with AirLynk and control everything from one station.
Watch How Air Moves in Your Facility
Visualize the air movement in your facility with MacroAir's exclusive AirViz visualization software. AirViz is specifically designed to help strategically place MacroAir HVLS Fans in key areas to move the maximum amount of air in any given space despite obstructions such as walls or tall racks. Book your free AirViz virtualization with us.
HVLS Fans are Used in Every Industry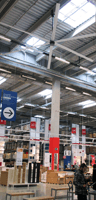 Commercial
Retail
Transportation stations
Laundromats
Farming
Banquet halls
Airports
Airplane hangars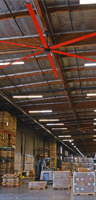 Industrial
Manufacturing facilities
Industrial shops
Warehouses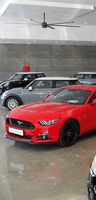 Automotive
Drive-through services
Wash bays
Parts areas
Lube and mechanic bays
Shop doors and showrooms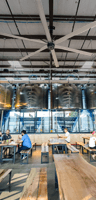 Food
Restaurants
Outdoor patios and gazebos
Coffee shops
Breweries
Food courts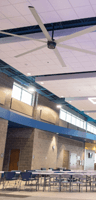 Education
Hallways
Classrooms and lecture halls
Gymnasiums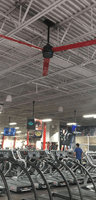 Fitness
Fitness centres
Sports clubs
Sports arenas and stadiums
Models
X Series

This fan is the pinnacle of performance, quality and overall value. This top-of-the-line big industrial fan delivers massive airflow for extra-large spaces. With a breakthrough gearless direct drive motor design, the X Series fan efficiently circulates the most amount of air.

Y Series

This HVLS fan has a gearbox motor and digital touchpad controller.

Z Series

This HVLS fan has a gearbox motor and analog controller.

AirVolution-D 550

The 550 premium fan houses industrial power within its sleek design, providing the ideal solution for climate-related problems in any mid-sized space.

AirVolution-D3

Simplicity is key with the AVD3 industrial ceiling fan. Its three-blade design reduces weight, friction, and raw materials, which in turn minimizes the strain on the building, energy consumption, and your budget.

AirVolution-D 370

Ideal for ceilings as low as 12 feet, the AirVolution-D 370 is the perfect solution for cooling your smaller spaces. AVD370's sleek design makes this the perfect fan for restaurants, houses and patios.
Model Comparison Chart
| | | | | | |
| --- | --- | --- | --- | --- | --- |
| | X Series | Y Series* | AVD 550 | AVD3 | AVD 370 |
| Diameter | 14'-24' | 8'-24' | 8'-18' | 10'-24' | 6'-12' |
| Number of blades | 6 | 6 | 6 | 3 | 6 |
| Spacing between fans | 70-110 ft apart | 50-110 ft apart | 60-95 ft apart | 55-95 ft apart | 28-48 ft apart |
| Weight | 156-260 lbs | 171-270 lbs | 144-188 lbs | 129-162 lbs | 52-74 lbs |
| Motor | Gearless Direct Drive | Gearbox | Gearless Direct Drive | Gearless Direct Drive | Gearless Direct Drive |
| Horsepower | 1.25-2.3 hp | 1.0-2.0 hp | 1.05 hp | 1.05 hp | 0.25 hp |
| Control options | Digital touchpad | Digital touchpad | Digital touchpad | Digital touchpad | Digital touchpad |
| AirLynk Automation | Yes | Yes | Yes | Yes | Yes |
* Z Series
is the same as the Y Series except it comes with an analog control pad and is not compatible with AirLynk Automation.
Customizations
Custom powder-coating is available for all fan blades, mounts and drop lengths in a variety colours.
Y and Z Series
Lifetime mechanical warranty
7-year electrical warranty
1-year labour warranty
X Series and AVD Models
Lifetime mechanical warranty
50,000 operating hours electrical warranty
1-year labour warranty
How Long Will a 50,000 Hour Warranty Last?
Running a fan continuously for 8 hours a day, 5 days a week over one year, the 50,000 hour warranty will last 24.4 years, virtually a lifetime warranty!
Specifications
| | |
| --- | --- |
| Airfoils | Anodized extruded aluminium |
| Safety | Safety cable, rapid mount industrial, guy wires |
| Motor | Direct drive |
Videos
Smart Reinvented

Find out the inner workings of the on-board AirBrain microprocessor.

Quiet Reinvented

MacroAir HVLS Fans run silently in the background.

Power Reinvented

Get insight into the breakthrough direct drive motor technology for HVLS Fans.

Air Reinvented

With its NASA-engineered wing design, MacroAir HVLS Fans move the most amount of air in any given space.

Cooling Animation

HVLS fans are able to make workers feel up to 8°F cooler in the summer.

The Power of 34 Fans

Replace 34 small industrial fans with one HVLS ceiling fan.

Customize the Color of Your Fans

Custom powder-coating is available for all fan blades, mounts and drop lengths in a variety colours.
Related Products or Services