Today is National Heat Awareness Day. Working in hot indoor environments, such as warehouses with poor air circulation, manufacturing plants, bakeries, food processing and food production facilities, becomes even more hazardous during the upcoming hot weather.
An Estimated 220 Workers in Canada and USA Die Annually
from Occupational Heat Stress
Make sure that you are doing everything you can to avoid heat stress, especially when working in hot environments:
Drink plenty of water. It is recommended to drink 1 cup every 15-20 minutes during moderate activity in moderate heat.
Take heat stress breaks in a cool area to cool down.
Wear breathable clothing.
Cooling Down Warehouses, Plants and Large Areas
We have ways to help make hot working environments more comfortable to reduce the need for frequent heat stress breaks.  We have a wide range of fans that can cool from every direction. As a result, you can quickly improve the working environment which will increase employee retention.
Cool from the Ground Up
The AtomikAir cools from the ground up. By adding the summer hood to the AtomikAir Air Filtration System, it deflects clean and cool air directly into the workplace.
Additionally, the AtomikAir removes dust, germs and dirt from the air to make it easier for everyone to breath and prevents dust build-up.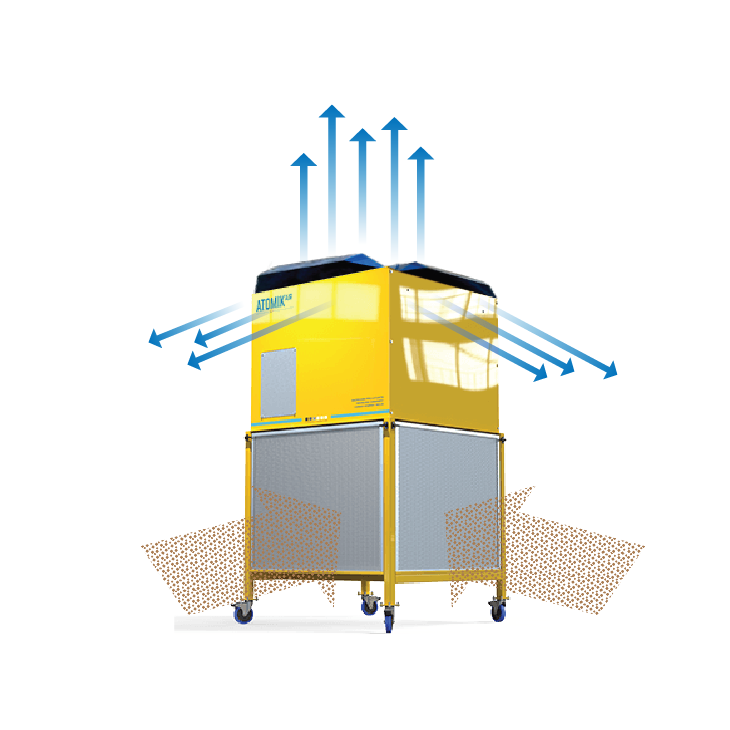 With the warm weather coming, now is the time to ensure that everyone stays cool and healthy. Contact us to schedule your cooling and air movement plan.