Absolute Air Fans give you the flexibility to repurpose hot process air throughout your facility. By warming colder zones, you can help to minimize heating costs when paired with Whalenado HVLS Fans.
Company: Pepsi
City: Mississauga, Ontario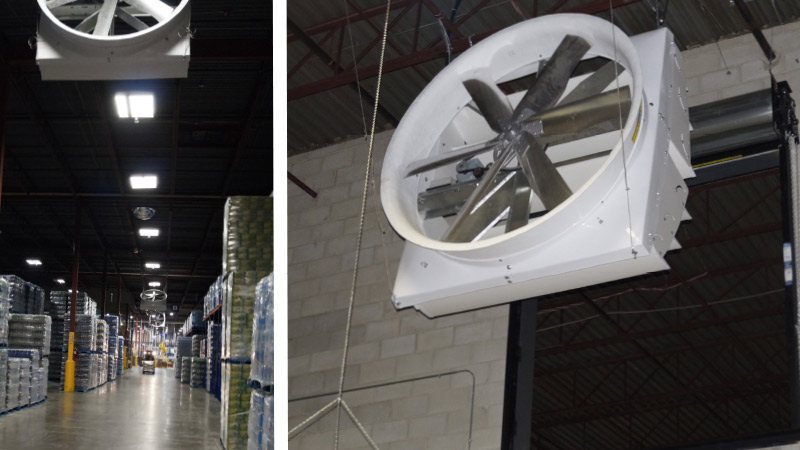 CHALLENGES
Extreme heat produced from the plastic bottle blow molding process causes poor working conditions from increased temperature zones. This process created "hot zones" which differ greatly when compared to warehouse and truck drive thru areas.
OBJECTIVE
Install Absolute Air Fans strategically throughout the facility to create a continuous air flow with the expectation of reducing warehouse heating costs through recirculating warmer air and equalizing temperatures. This will also create improved (cooler)working temperatures in production and the blow molding areas.
OUR SOLUTION
By positioning three Absolute Air Fans in the blow molding area we are able to move the process heat into the cooler warehouse area. We then combined the performance of eight 24′ HVLS fans in the warehouse to disperse the cooler air across the production line which then is moved through production and back into the blow molding area to help improve employee working conditions .
In order to take the heat from the warehouse and move it to the drive-thru, two 8′ x 8′ openings from the ceiling down were cut into the block wall separating these areas. Here, two 6′ Absolute Air Fans were installed and positioned in front of these openings to move air through. Once brought into the new area, the heat is then circulated into this space by three 24′ HVLS Fans.
Results: By moving the process heat into the warehouse and truck drive thru areas with Absolute Air Fans combined with HVLS fans we help eliminate heating costs by re-purposing hotter air zones. This will allow us to come very close to, if not eliminate heating costs for these areas of the building.
With the recirculation of cooler air at the back of the warehouse, the customer is able to cool product and reduce temperatures in the blow molding areas to help improve working conditions in these areas.