AeroTec truck fan and air replacement system
Unique features incorporated in AeroTec
Get an overview of the unique features incorporated in the AeroTec truck fan and air replacement system. The AeroTec dock fan can pivot out of the way to accommodate last pallet loads and can slide on its mounting arm to adjust to door clearance.
Cool/warm trailers faster: Cool or warm the loading dock trailer faster with complete air circulation using the AeroTec truck fan.
Superior air exchange: Continuously pull new, fresh air in and push old, toxic or stale air out of the trailer.
Reduce maintenance costs: AeroTec takes up to 75% less space, making it less prone to accidental collisions than ordinary truck fans.
Unique design: The unique breakaway elbow and swivel anchor allows the truck fan to pivot out of the way and prevent damage to the unit.
Increase worker safety and productivity: AeroTec's mechanical components are mounted beyond the heavy-traffic area of the door opening, making the loading dock area safer and quieter.
Accommodate end loads: Easy end load trailers without fan hindrance.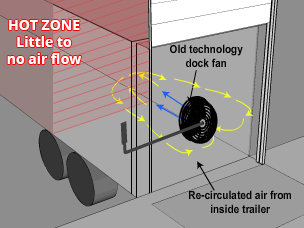 More than just a dock fan: AeroTec is an air exchanger
The illustration on the left demonstrates inadequate trailer air flow from traditional fans. Standard dock fans produce a high amount of airflow at a low velocity resulting in pressurized air that fails to cool the trailer. AeroTec is also an air exchanger capable of cooling, warming or moving out toxic gasses in a trailer within seconds to continually circulate fresh air throughout the entire trailer.
Maximize trailer ventilation
AeroTec utilizes both the sides and the top of the trailer to uniformly move air. By moving air off the front trailer wall, the air is pushed back through the middle and the opposite side to maximize trailer ventilation.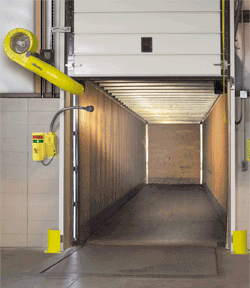 Upgrade to the AT 750 Super model for air conditioning
For dock workers working in dangerously hot temperatures, upgrade the Standard AeroTec to the Super model that hooks up to the existing HVAC system for pushing conditioned air into trailers.
Impact the fan without worrying about costly repairs
Standard loading dock fans present a much larger obstruction around the loading dock and fail when impacted by forklifts creating a workplace hazard and becoming costly to repair. AeroTec's elbow breaks apart in case of impact and is easily reattached to minimize downtime and eliminate costly fan repair.
Customers that love this product
Models
AT 700 (Standard)

The AT 700 is the more energy-conscious model that comes with a 1/3 horsepower motor.

AT 750 (Super) - "AeroTec AC"

Supercharge the AeroTec truck fan with the AT 750 model, featuring a 1/2 horsepower split capacitor HVAC motor that works with your existing HVAC system to push conditioned air into the trailer.
Model comparison chart
AT 700 (Standard)
AT 750 (Super)
Works with HVAC
No
Yes
Flow
850 cfm
1200 cfm
Velocity
4100 ft/min @ 20'
6100 ft/min @ 20'
Fan speed
1050 rpm
1500 rpm
Power
1/3 hp
1/2 hp
Current
4.8 A
8.8 A
Weight
53 lbs
60 lbs
Length

4'

Motor

Single phase, 120V, 60 Hz

Mounting bracket
12"
16"
Customizations
• The AT 750 model has an optional 24" mounting bracket available for recessed walls.
• 277V motor.
• 30" elbow extension sleeve.
Warranty
• 1 year limited.
Videos
Add air conditioning to a truck fan

The AT 750 Super model pushes conditioned air into the trailer to cool down extremely hot environments.
 
Related products or services