Proudly protecting Canadian warehouses, manufacturing plants and loading docks
Notify Nearby Personnel of Oncoming Forklift Traffic
The LED mirror alert dome increases safety for personnel. High-visibility LED "caution" text, a directional arrow and an optional blue LED floor spotlight makes this safety device great for use around blind corners, hidden intersections or obstructed doorways.
✓ Prevent forklift accidents: Detect forklifts up to 70 feet away to navigate around blind corners, hidden intersections or obstructed doorways.
✓ A complete visual alert system: The LED mirror alert dome signals drivers and other employees of upcoming forklift traffic using three different types of LED indicators.
Prevent Forklift Accidents with the LED Mirror Alert Dome
The 36″ and 48″-diameter LED mirror alert dome is meant to signal warehouse personnel for upcoming forklift traffic around blind corners, intersections and doorways by using high-visibility LEDs. This highly economical safety device provides a central source for workers to be alerted of vehicle movement from up to 70 feet away.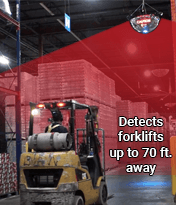 The most common causes of [forklift mishap] fatalities include:

22% of forklift overturns.
20% pedestrian workers struck by a forklift.
16% driver or employee crushed by forklift.
9% driver fall from forklift.

Source: Atkinson, William. "Forklift safety is serious business." 1 May 2006.
A Comprehensive Visual Alert System
Once a forklift is detected by its sensors, the LED mirror alert dome uses up to three different high-visibility LED signifiers to notify personnel about oncoming forklift traffic, in addition to its reflective mirror surface:
Flashing red LED text reading "caution" displayed on the dome.
A flashing red LED directional arrow is displayed on the dome to show which side the oncoming traffic originates.
An optional flashing blue LED floor spotlight to alert drivers and other employees closer to eye level.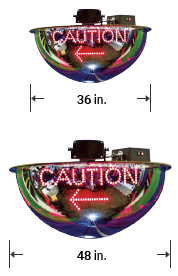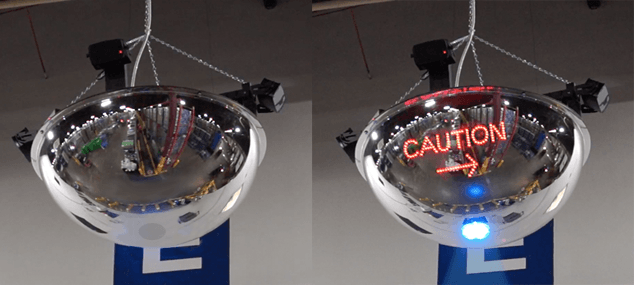 Customizations
High-visibility flashing blue LED floor light.
Related Products or Services