Proudly protecting Canadian warehouses, manufacturing plants and loading docks
Roly Mezzanine Safety Gate
The Roly mezzanine safety gate uses dual counterbalanced gates to maintain a safe environment at all times. Designed to secure guardrail openings on elevated platforms and mezzanines, Roly is ideal for protecting pallet drop areas in doorways.
✓ Increased safety for workers: Prevent forklift accidents by blocking off the loading dock area when the doors are open with a safety strap, safety barrier or safety gate.
✓ Versatile: Safety barriers, safety gates and safety straps are applicable for a wide variety of applications including protecting pallet drop areas in doorways.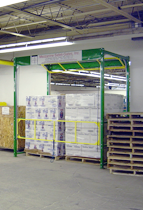 Securing Ledges of Pallet Drop Areas
The Roly mezzanine safety gate is one of the most versatile solutions for securing ledges of pallet drop areas on mezzanines and rack picking modules. Featuring dual counterbalanced gates with a heavy-duty chain and sprocket drive system, Roly safety gates secure guardrail and doorway openings on elevated platforms. Ideal for use in many applications, Roly is the optimal solution for securing pallet drop areas in a doorway, as gates close flush with the ledge and can operate independently of overhead doors while providing fall protection.
Fall-Stop Safety Barrier Gate Withstands 10,000+ Pounds of Force
Fall-Stop safety barrier gates improve dock safety and prevent the edge of dock accidents and door track/panel damage caused by forklifts/pallet handling. A counterbalance system provides smooth, safe, easy operation. Energy-absorbing bumpers protect the gate, truck and building from damaging impact forces exceeding 10,000 pounds at 4 mph.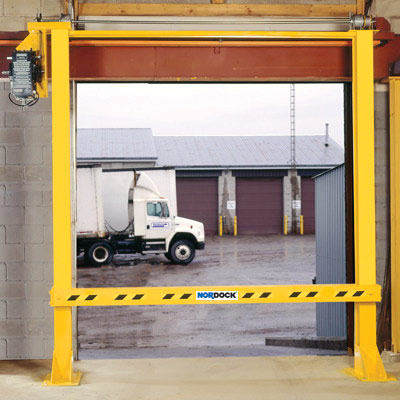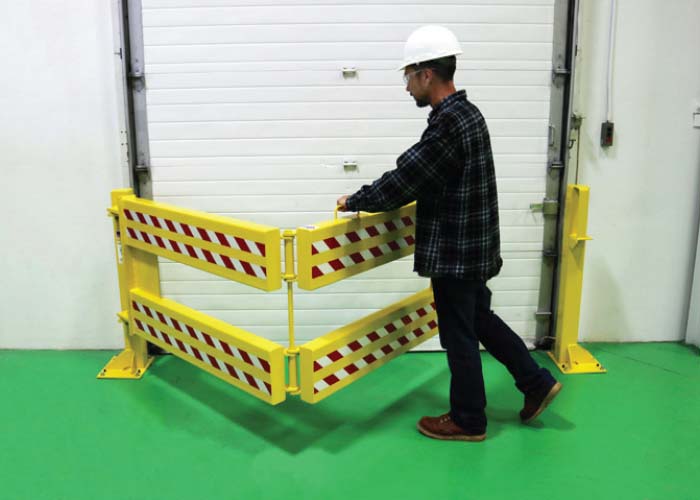 Dock Gate Stops Heavy and Fast Forklifts
The Defender Dock Gate's compact size makes the barrier easy to install (even on irregular floors using built-in levelling screws) and easy to operate for all personnel. Featuring a patent-pending heavy-duty steel hinge, the Dock Gate effortlessly folds in half allowing for full access to the doorway when not in use.
Available in standard sizes ranging from 6′ to 12′, XL sizes from 14′ to 16′, and incorporating high visibility 3M reflective tape, the Dock Gate is an efficient way to increase safety around the loading dock and other areas of any facility.
Click on the image below to see how the Dock Gate outlasted competitor models against a 10,000-pound forklift.

Retractable Safety Barrier
The Retractable Safety Barrier is meant for loading docks. Utilizing an air-thru mesh, the Retractable Safety Barrier allows for air and light infiltration while its yellow colour provides more visibility than a dock safety chain. The Retractable Safety barrier is easy to extend and retract (retracting into a 6″ round PVC housing with a 10″ square steel foot/shin plate).
Although custom longer spans are available up to 13′, the Retractable Safety Barrier comes in a standard length of 10′, is 48″ high plus an l8″ sweep. Customization options for the Retractable Safety Barrier include seven different receiving hook styles length, colour and wording/logo printed on the centre of the ribbon. Minimum installation involves lag bolts.
Safety Straps for Cross Docks and Doorways
The Safety Strap is a high visibility dock barrier specifically designed for cross docks and facilities that leave their doors open. Its superior strength exceeds OSHA standards and helps prevent dock workers from falling off a loading dock. The Safety Strap's retraction function keeps the doorway free of any obstructions when not in use. For optimal use, pair the Safety Strap with the optional proximity sensor that can be integrated with Smart Chock.
Models
Roly Mezzanine Safety Gate

The Roly Mezzanine Safety Gate is the most versatile system for securing pallet drop areas in doorways and is available in a variety of custom sizes to maximize the space in your facility. The dual gate system works with the design of your facility to prevent moving parts that may obstruct nearby employees or equipment.

Fall-Stop Safety Barrier Gate

Supercharge the AeroTec truck fan with the AT 750 model, featuring 1/2 horsepower split capacitor HVAC motor.

Defender Dock Gate

The Defender Dock Gate provides superior personnel protection against accidental impact from forklifts.

Retractable Safety Barrier

The Retractable Safety Barrier utilizes an mesh which allows for air and light infiltration while its yellow colour provides more visibility than a dock safety chain.

Safety Strap

When paired with an optional proximity sensor, Safety Strap can be integrated with Smart Chock. The Safety Strap replaces the function of the dock door opening and closing when the facility operates with the loading dock doors open.
Customizations
Manual and power operation units available.
Sizes include single, dual palette or customized larger widths.
A variety of activation options are available including push-button stations and frequency remotes.
Galvanized steel structure.
Integrated operating equipment systems.
• Photo electric safety stop.
NEMA 4 weatherproof electric system.
Integrated systems for added safety benefits.
Available in electric-powered model or simple manual operation.
Barrier gate, door, dock leveler, vehicle restraint and communication lights equipment integration systems for safe sequence of operations.
Security guard.
Orientation where latch is on the left (left-hand), and opens to the right (standard orientation with latch on the right).
Extended lengths up to 13'.
Receiving hook styles.
Wording or logo on centre of ribbon.
Can be combined with various dock communication systems from DL Manufacturing.
Proximity sensor to detect when the strap is engaged when used with Smart Chock.
Specifications
| | | | |
| --- | --- | --- | --- |
| Model | Drop area | Clearance height | Overall unit |
| Single wide | 60"x60" | 82" | 64"x66"x96" |
| Double wide | 100"x60" | 82" | 104"x66"x96" |
Size and dimensions
Standard clear openings from 7'x8' to 10'x10' in 1' increments.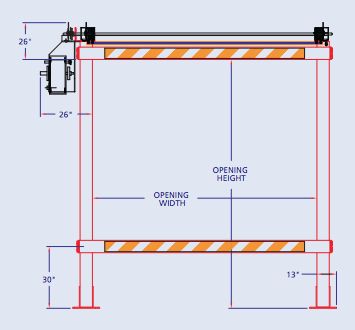 Standard models available in the following sizes: 6', 8', 9', 10', and 12'.
XL models available in 14', 15' and 16'.
Made from all steel construction, standing 42" tall.
Heavy-duty steel plate hinges contain 1" pivot pins with oilite bronze self-oiling bushings.
Standard length is 10'.
Standard height is 48" high plus an 18" sweep.
High strength durable nylon Safety Strap fits up doors up to 10' wide.
Warranty
• 1 year limited.
Videos
Smart reinvented

See a demonstration of the safety strap when it's put to use at the loading dock.
Related Products or Services