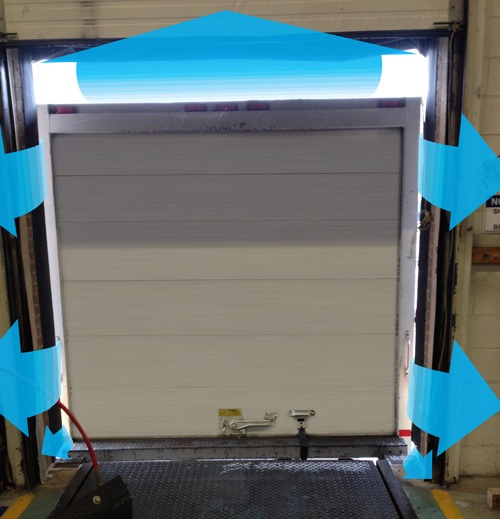 Learn how to stop money from blowing out of your building – from small gaps to side openings.
With the rising cost of energy, the importance of sealing openings in the loading dock area has reached an all time high. The hinge gap is a critical area of importance – yet it is often overlooked. Trailers with open, swing-out doors parked at your loading dock create open space equal to a 2.5 sqft hole in your building wall. Without a seal on the hinge gap, you are leaving your facility open to foreign substances, and are subject to heat loss in the winter months. A hinge gap can be outfitted properly to avoid these negative consequences – you just have to be informed. Installing reinforced side curtains that seal corner/hinge areas will create a protective weather seal.
When a truck backs into your dock opening it essentially creates an extension of your warehouse. Due to the high volume of traffic at loading docks – the tractor trailer should be viewed no different than any other square foot of space inside your building. When the trailer backs into the loading dock there is a gap of a few inches on each side of the truck that is open to the outside elements. Would you build an addition to your warehouse that had holes in the wall? The answer to that is no, yet many warehouses don't fully utilize proper seals and shelters on their loading docks.
By neglecting to use properly sized dock seals and shelters you are watching money blow right out of your warehouse everytime a truck loads or unloads at the dock. Essentially a dock seal creates a weather-tight enclosure between loading dock and truck. This protects workers from unsafe loading conditions, and protects merchandise from being damaged by outside elements (rain, snow, etc.).
As a trailer backs towards your building, it compresses the seal to form an extra tight closure. When the truck leaves, the seal regains its original shape. Many loading docks often require certain types of seals and shelters depending on individual variables of the area (dock face, approach grade, cantilever projection, etc). To find out what product will work best with your application get in contact with a Northern Dock Systems Sales Rep and they will provide you with turnkey solutions.