Efficiently heating up large spaces in winter is challenging for two reasons:
1. Heat continuously rises causing stratification.
2. HVAC systems take a long time to recover the lost heat caused by open doorways.
To help you stay warm this winter, we've listed the top three heat inefficiencies you might have overlooked at your facility that could continue to increase your energy consumption.
---
Inefficiency #1: Small climate zones
Small fans and air curtains have a tendency to create new mini-climates and thermal pockets, often increasing energy consumption with little to no effect felt by nearby workers and customers.
Solutions:
Enershield Air Barriers create a uniform air flow over open doorways to prevent extreme winter air from entering the facility.
MacroAir HVLS Fans
move a large volume of air at a low speed to eliminate thermal pockets.

---
Inefficiency #2: Stratification
Distribute heat evenly throughout your facility and prevent heat from escaping through the ceiling, saving you money on heating costs.
Solutions:
Install Enershield Air Barriers to seal off up to 90% of outside air and cold drafts over an open doorway.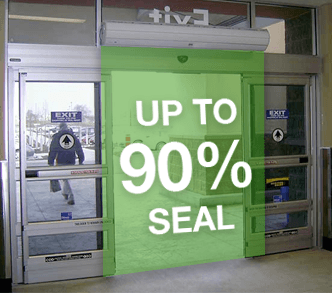 MacroAir HVLS Fans push the air down slowly during winter to bring naturally rising, warm air at the ceiling air down from the ceiling for even heat distribution.

---
Inefficiency #3: HVAC as a standalone product
Even state-of-the-art HVAC systems need assistance in preventing heat loss. Pairing your HVAC system with MacroAir HVLS Fans and/or Air Barriers will maximize the efficiency of the respective systems.
Solutions:
Enershield Air Barriers extend the life of your HVAC system by reducing the number of HVAC cycles needed to heat up a space.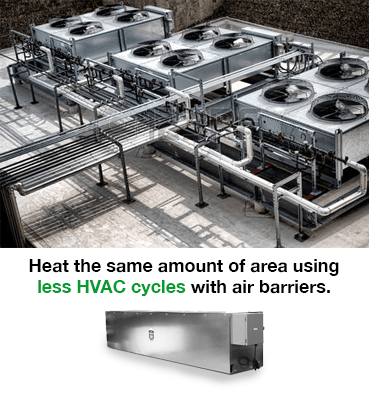 The placement of MacroAir HVLS Fans are determined by MacroAir's exclusive AirViz visualization software, designed to move the maximum amount of air in any given space despite any obstructions.