Reduce your annual spend on natural gas and electricity with energy-efficient products that work with your existing HVAC system to prolong its longevity, enhance indoor comfort and create a strong environmental separation against outside elements including extreme weather. Request a free energy audit from Northern Dock Systems to get started.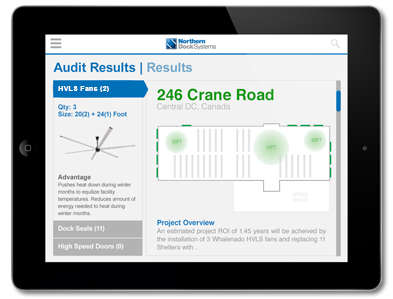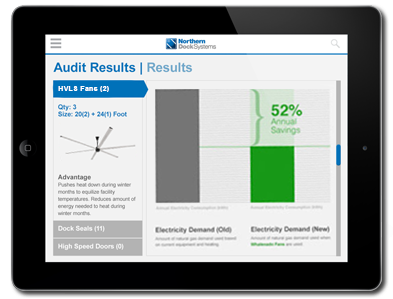 Top Energy Audit Advantages
Reduce annual spending and overall operation budgets.
Identify energy rebate programs and incentives in your region.
To meet mandates set by your company to reduce annual energy consumption.
Speed up processes in production by upgrading inefficient equipment.
Identify areas of concern in your facility in relation to heating/cooling.
Ensure all equipment is operating at peak performance.
Energy audits are essential for older buildings with equipment that is underperforming or subject to constant repair and maintenance. Keep your workers safe and your facility running at optimum operational speed with an energy audit performed by one of our trained professionals.
Installing one MacroAir 24-foot HVLS Fan can reduce your heating bills during the winter by up to 25%.
An overhead door can be turned into a high-speed door with the new Stealth Door Operator (with speeds of up to 48″/sec).
Northern Dock Systems offers insulated doors and dock levelers to help prevent temperature loss.
Many products may be eligible for rebates to help reduce your initial investment and provide a faster return on investment.