Industry: City & Fire Services Department
Products: Door Engineering High-Speed Four-Fold DoorsServices: FF300 Equipment Installation (Construction Dept), Electrical Services, Project Management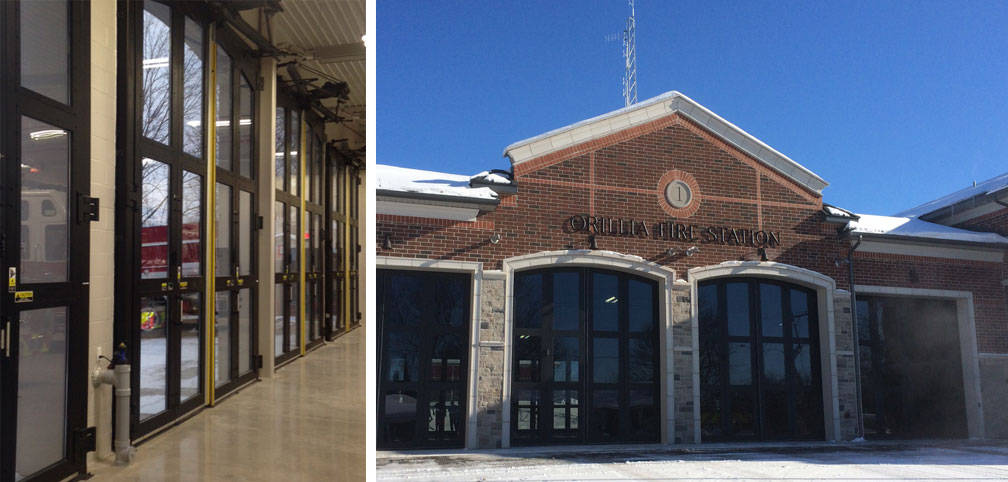 THEIR OBJECTIVE
When reviewing design options for the new Orillia Fire Station Headquarters, the Architect, City and Fire Services Department identified the importance of doors that operated with speed & safety but were also aesthetically pleasing so as to match the overall design of the new station.
OUR SOLUTION
Door Engineering's High-Speed Four-Fold Doors as supplied by Northern Dock Systems were the perfect choice for both design and function. With custom glazing and panel construction, the main centre exit doors were designed to match the custom arched masonry above.
By clearing the opening horizontally and being able to open at speeds of up to 24" per second, Four-Fold doors allow the Fire Department to exit the station quickly without the risk of impacting the doors. The automatic closing function ensures staff can be focused on the task at hand rather than closing the bay door.
Looking for more information, visit our Four-Fold Door product page to learn more.