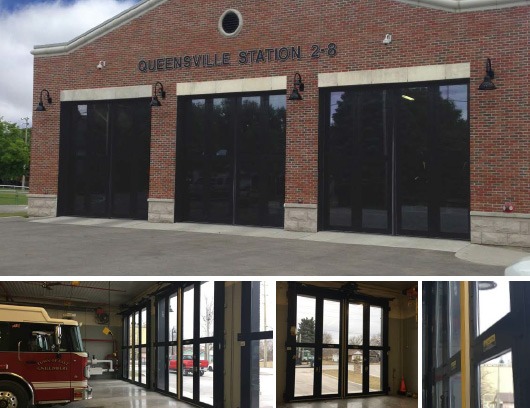 Address: 1590 Queensville Side Rd. Queensville, ON
Architect: Thomas Brown Architects Inc.
Contractor: The Newton Group  Completed: Summer 2015
Equipment Provided: 3 – 14'0 x 14'0 Door Engineering – Model FF300 Four-Fold Doors
Description: To better serve the community of East Gwillimbury, the Queensville Fire Station went under significant renovations. Critical to the design, FF300 Four-Fold Doors – supplied and installed by Northern Dock Systems – are used as the sole entrance and exit doors for the 3 bay station. With lower service requirements and tested for over one million cycles, FF300 Four-Fold Doors provide optimal performance and are the most trusted Four-Fold doors used in Ontario.