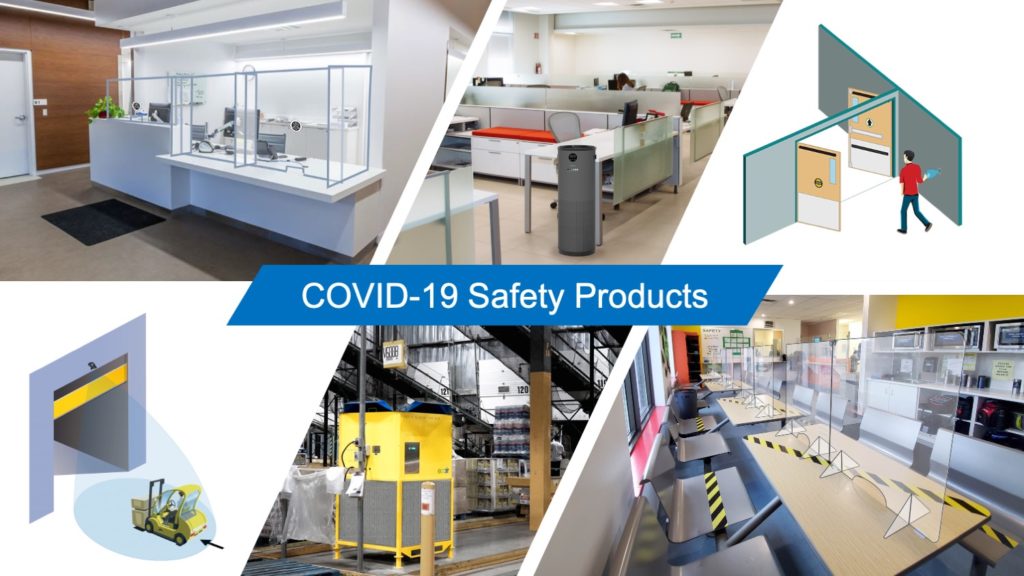 &nbsp
What Are You Doing to Protect Your Workplace and Employees Post-COVID-19? ​
We are working hard to keep not only our employees safe during this crisis, but we are coming up with solutions to keep your facilities and employees protected. Here is a list of our top products to keep you safe and give you peace of mind during this unprecedented time and after everyone returns back to work.
Our top solutions to keep you safe are:
Air Filtration & Purification Systems
Air filtration systems clean the air, so your lungs don't have to. They remove particulates from the air such as dust, viruses, odours and other particles that can be harmful to your employees' health or damage equipment. We have two different systems based on what kind of space you have.
For Your Warehouse or Shop
EcoAir – Industrial Air Filtration and Destratification System
This air filtration system cleans sand, soot, insect debris, pollen, mould, metallurgical fumes, oil smoke and viruses. It cleans the air to make it easier for you to breathe. It also lowers your energy bills and can save you up to 20-40% on your heating costs. It does this through destratification, which equalizes the temperature from floor to ceiling to prevent hot and cold air pockets to keep your works warm and happy. Learn more about the EcoAir industrial air filtration and desertification system »
For Your Office or Lunch Room
JADE & Cascade – Medical Grade UV Air Purifier
It kills germs and viruses that make people sick with its 5 stage sterilization process which includes germicidal UV-C+. In addition, it captures dust particles, pollen, volatile organic chemicals (VOCs), mould, allergens, viruses, odours and many other pollutants that are found in the inside air in workplaces. The negative ion generator makes indoor air feel more pure, clean and energized to help combat fatigue. The hand wave sensor makes it easy to control the settings of the JADE without ever having to touch it and prevents cross-contamination. Learn more about the JADE UV Air Purifier »
Plexiglass Safety Barriers
Plexiglass safety barriers are an affordable, permanent or temporary solution to prevent the spread of germs and viruses. They practice social distancing, are easy to install on any surface and to keep clean. These are perfect for: pharmacies, cashiers, lunchrooms, check-in tables, open office environments and common areas. Learn more about plexiglass safety barriers »
Preventive Maintenance Program (PMP)
Great for Root Cause Discovery and First-Time Fixes
Northern Dock Systems' Preventive Maintenance Program provides specific, multi-point inspection checklists to minimize inefficiencies and downtime in your equipment. We do our due diligence so you don't have to sacrifice the well-being of your employees.
Whether or not your business has increased or decreased in orders, now is the time to schedule a preventive maintenance visit.
If Your Business Has Increased
Your facility is probably seeing more orders and your workplace is being pushed to its limits to keep up with the increased demands. This is why it is key to ensure all your equipment is running safely and efficiently. If a piece of equipment was to break or an accident was to happen, it would cost your facility valuable downtime. So do your due diligence now with a PMP visit to prevent equipment breakdowns.
If Your Business Has Decreased
This downtime is the perfect time for our technicians to come into catch any faults in your equipment and fix them without interfering with your facilities workflow. Ensure that your facility is at tip-top shape for when your business picks up again by scheduling your PMP visit today.
Learn more about our Preventive Maintenance Program (PMP) »

Contact Us to Find Your COVID-19 Solution Today