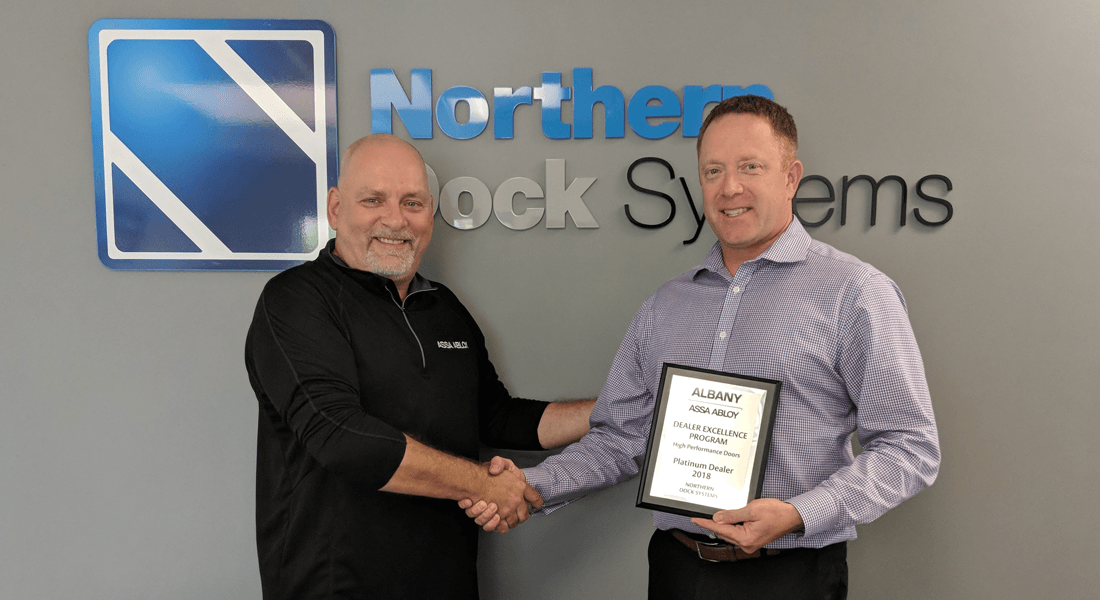 Northern Dock Systems continues its reign in 2018, once again being awarded by Assa Abloy as one of its Platinum-level dealers in Canada through their Dealer Excellence Program.
A Representative from Assa Abloy visited Northern Dock Systems' headquarters to personally deliver the Dealer Excellence Award to Northern Dock Systems' VP of Sales and Marketing, Chris Brady.
View some of Assa Abloy's high-speed and energy-efficient interior and exterior doors including:
• RR300 Interior, a fabric roll-up door for interior use.
• UltraFast, a fabric roll-up door for exterior use.
• RR3000/RR3000 Vision, rigid exterior doors.
• RP300/RP2000, fabric roll-up and rigid machine guarding doors.
• RR300 Chill/Freeze, a fabric roll-up door for coolers and freezers.
• RR300 Clean, a fabric roll-up door for the pharmaceutical industry.
• UltraTough/UltraBig, a large rubber high-impact knock-out and heavy industry door.