Air-Powered Dock Levelers
Reliable Airbag Dock Levelers
Blue Giant's high-performance air-powered dock levelers are easy to operate with the touch of a button. Strategically welded enhanced beams provide an exceptional level of structural sturdiness, improving product lifetime.
✓ Easy operation: Open and close the air-powered dock leveler with a push of a button, unlike mechanical dock levelers which require workers to manually open and close the dock lip, causing workplace injuries to the neck, shoulders and back.
✓ Heavy-duty airbag: Damage-resistant and reliable performance in the toughest conditions, temperature extremes, heavy usage and exposure to caustic substances.
Information
Available in 30,000, 35,000, 40,000 and 45,000 lb Load Capacities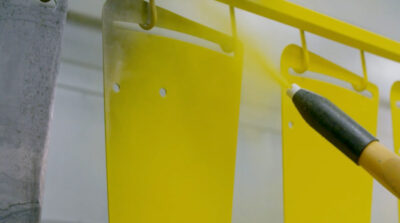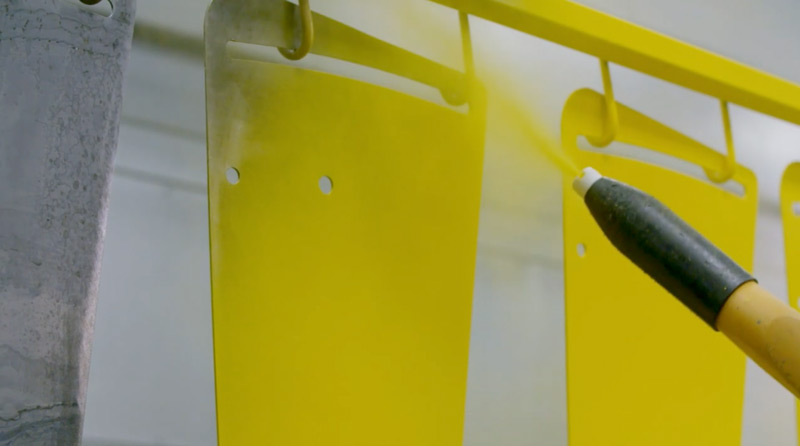 Rust-Resistant Powder Coat
The only hydraulic dock leveler in North America to feature a powder coat finish as a standard. This Blue Giant's powder coat finish provides a long-lasting and rust-resistant finish and colour. It is available in blue, black, grey and yellow.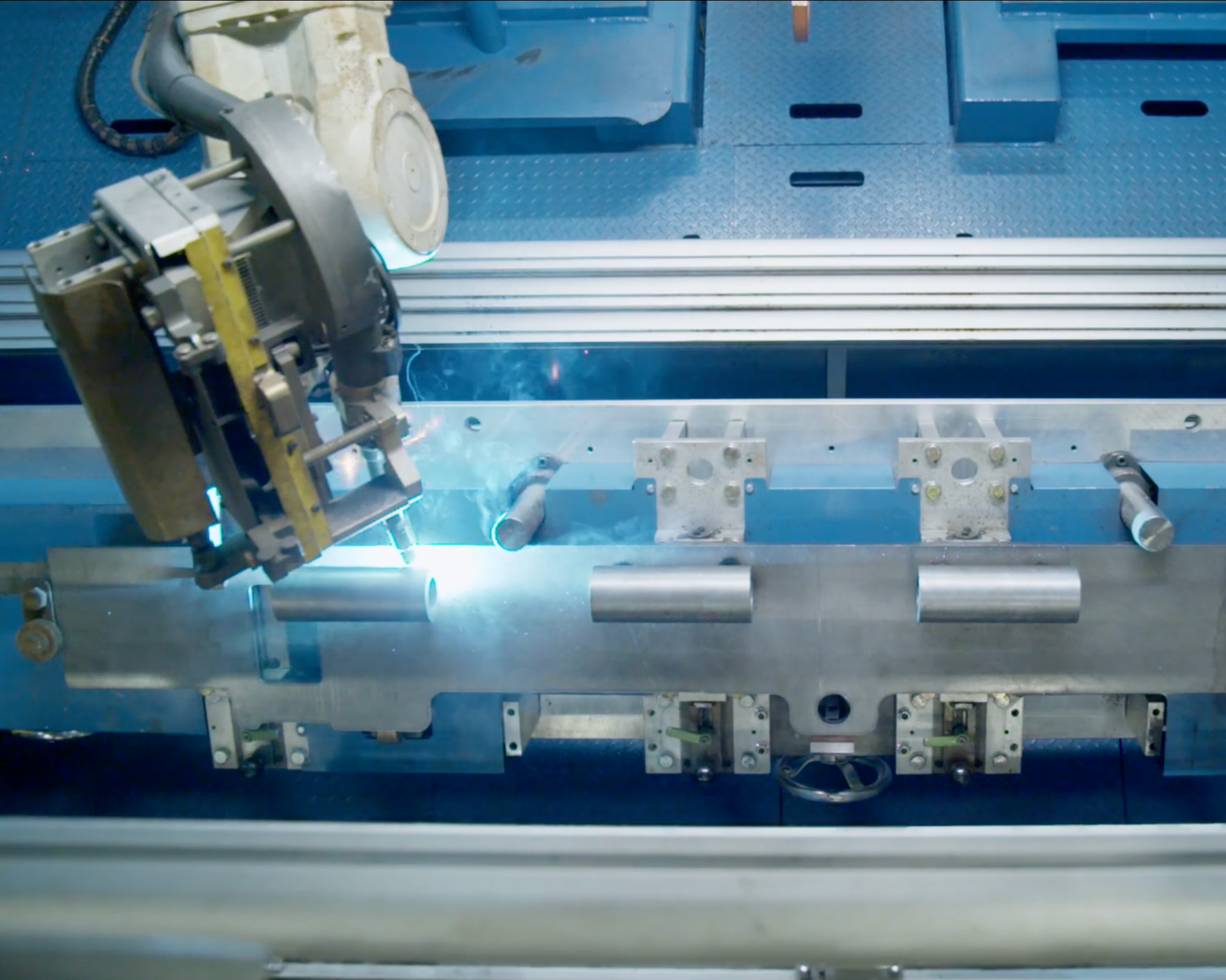 Consistent Quality and Strength
The Blue Giant's state-of-the-art robotic welding ensures structural integrity and uniform quality. Get peace of mind knowing that every weld has the same quality and care put into it.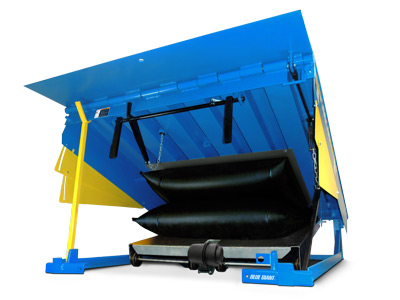 Easy Activation
When activated, the 115V / 1PH blower motor inflates the airbag, raising the deck and deploying the lip in a continuous upward motion. After the button is released, the bag deflates, allowing the platform to safely lower onto the truck bed.
Heavy-Duty Airbag
The PVC-coated polyester fibres make the airbag resistant to chemical or puncture damage. Making it suitable for all temperatures, heavy usage and corrosive environments.
Industrial Strength Air-Powered Dock Leveler
A minimum of six heavy-duty U-beam channels are welded to the underside of the deck at dynamic impact points. As a result, it prevents 'dishing' and extending deck life by up to 50% compared to competitor models.
In addition, the unified headboard system increases system integrity and minimizes the risk of structural damage. For that reason, this dock can handle 30,000, 35,000, 40,000 and 45,000 lb capacities.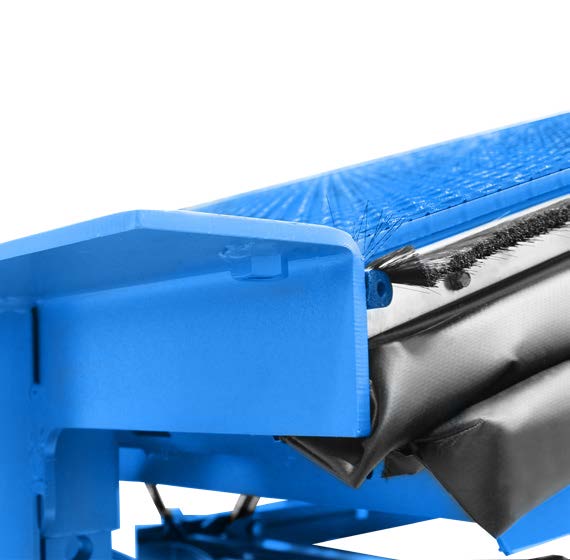 Deck Flex Design
For continual contact for a smooth transition with rear floor. This allows for allow a smooth cross-docking transition, lowering the risk of worker injury and cargo or equipment damage.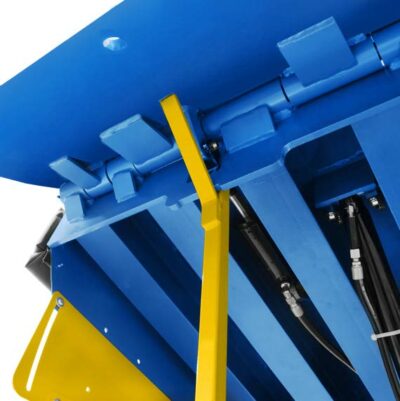 One-Piece Lip Hinge Pin
The continuous, piano hinge style enables even load distribution, making the lip structure up to five times stronger than major competitor models.
Keeping Safety as a First Priority for Air Powered Docks
The mechanical fall-safe legs limits platform free-fall for extra protection. While the metal toe guards operate in full range and are painted safety yellow as specified by ANSI Z535.1 and OSHA.
Model Comparison Chart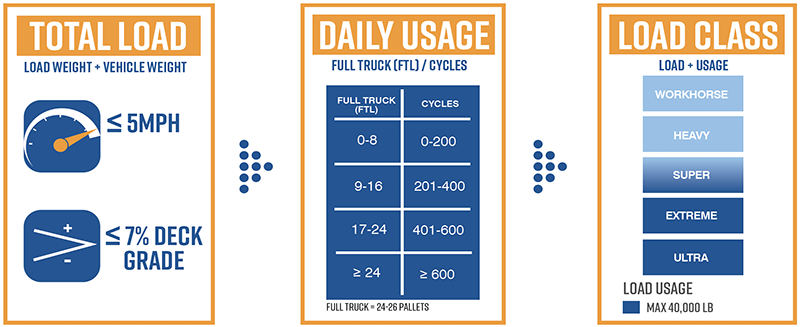 | | | |
| --- | --- | --- |
| | Workhorse (W) | Heavy (H) |
| Load Class (Acutal Input Load) | 12,500 lbs | 19,000 lbs |
| Load Capacity | 30,000-35,000 lbs | 35,000-45,000 lbs |
Customizations
230V / 1PH / 50-60Hz blower motor
Shallower and deeper frame options
18" (457mm) or 20" (508mm) long lip
Brush and rubber weather seals
Pre-assembled pour-in pan (with dock leveller already installed)
New construction pit kit
Curb angle set
Blue Genius gold series control panel for integrations with door, trailers restraints and dock lights
Colour Options: Blue, grey or black

Fall-Stop safety barrier gates.
Brush weather seals.
Warranty
Structural (Deck, frame, support beams, lip and hinge)
Air System (Parts only on blower assembly and inflatable air bag only)
Related Products or Services