• Built for strength: Air dock levelers are manufactured in Canada and tested to withstand impact and handle the heaviest loads, with a 33% deck-to-beam weld ratio and up to 15-20% heavier than traditional dock levelers.
• Center deck support that lasts: High-quality, consistent placement of welds and proper center deck support allows for even weight distribution throughout the hydraulic dock leveler.
• No pinch points: The open lug design on the front hinge allows debris to pass straight through the dock, eliminating pinch points that cause serious structural damage to other dock levelers.
• Premium safety: Open and close the air dock leveler with a push of a button, unlike mechanical dock levelers which require workers to manually open and close the dock lip, causing workplace injuries to the neck, shoulders and back.
Air bag protected over 99% of the time
A fully-protected single chamber air bag activation system shields the air bag from outside contamination over 99% of the time. In addition, Nordock's single chamber balanced design reduces material, redundant air chambers and unwanted seams to eliminate unnecessary friction.
Unique open lug design eliminates pinch points
Nordock products are guaranteed to outperform all others on the market, and these dock levelers are no exception. Their unique open lug design on the front lip eliminates pinch points by allowing debris to pass straight through the dock leveler. Pinch points are often the cause of serious structural damage to traditional dock levelers, often leading to frequent maintenance and high repair costs. The open lug design is standard on all models except the Constructor series.
Constructed to support the heaviest loads in demanding applications
The majority of dock levelers that are available on the market use inconsistent spot welds on one side of the hinge that provides significantly insufficient support to the center deck. Nordock's air-powered dock leveler lips use consistent 4″ welds that encompass both sides of every hinge, delivering superior center deck support that is able to handle the heaviest loads.
Key features of every Nordock air dock leveler
Each air-powered dock leveler features:
• A continuous rear hinge assembly for long-term strength and durability.
• Integral lip and deck maintenance support.
• An open frame design for easy pit cleaning.
• Full operating range telescoping side guards.
• Easy operation with single push-button control.
• A self-contained 120 Volt fan motor with a fully-protected single chamber balanced air bag activation system.
• Security night locks.
Models
Super-Duty

The Super-Duty air-powered dock leveler has a weight capacity of up to 60,000 lbs.

Industrial

This air dock leveler is capable of handling between 25,000-50,000 lbs in weight.

Barrier

The Barrier air-powered dock leveler models have a load capacity of 30,000-60,000 lbs.

Constructor

The Constructor series of air-powered dock levelers are built to withstand 25,000-45,000 lbs in weight.
Model comparison chart
Super-Duty
Industrial
Barrier
Constructor
Standard size
6'x6' to 7'x10'
6'x6' to 7'x10'
6'x6' to 7'x10'
6'x6' to 7'x8'
Load capacity
Up to 60,000 lbs
25,000-50,000 lbs
30,000-60,000 lbs
25,000-45,000 lbs
Standard lip

16"
Customizations
•
Truck-Lock
vehicle restraint systems.
•
Fall-Stop
safety barrier gates.
• Emergency stop and lip extend control.
• Extended 18" and 20" long lip available.
• Automatic return to dock level.
• Brush weather seals.
• Steel spring and
steel face dock bumpers
.
•
Dock lights
.
• Safety barrier lip available for Super-Duty and Industrial models.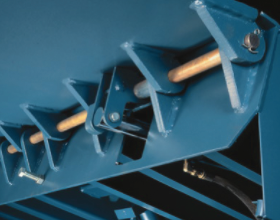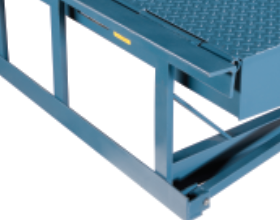 Full-width
rear hinge:
20 years*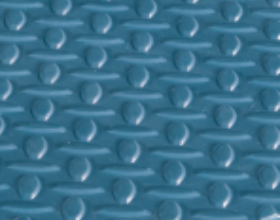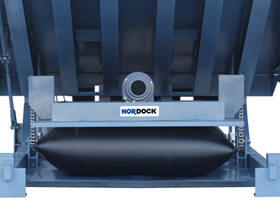 Lifting mechanism:
5 years*
*Warranty applicable to all models except Constructor.
• Constructor: 1 year limited.
Related products or services