Upgrade Your Mechanical or Air-Powered Dock Leveler to a Hydraulic Dock Leveler
Is your mechanical or air-powered dock leveler keeping up with the demanding nature of your operations? If not, your dock might need to be replaced entirely with a hydraulic-powered dock leveler—but there is an alternative, cost-effective solution. The hydraulic conversion kit is designed to replace the air-powered lifting mechanism of your existing dock leveler with a hydraulic lifting mechanism. The hydraulic conversion kit adapts to all sizes of dock levelers and keeps your repair and replacement costs low. Minimize downtime in your daily operations by turning your air-powered dock leveler into a hydraulic dock leveler with the hydraulic conversion kit.
Constructed to Support Heavy Loads
The power unit is a frame mounted integral assembly fully tested and oil-filled. The 1 hp motor is a TENV type with internal overload protection available in all voltages while the control panel has a dust-tight enclosure housing the motor starter and push-button. Hydraulic cylinders are a heavy‐duty design with polished chrome rods, guide bearings and high‐pressure seals. The hydraulic hoses are also high pressure.
Easy Push-Button Control
The operator presses the control button until the deck is raised and the lip is fully extended. Releasing the button allows the lip to lower onto the truck bed. The operator stores the leveler by pressing the control button until the lip fully retracts. Releasing the button allows storing of the dock leveler.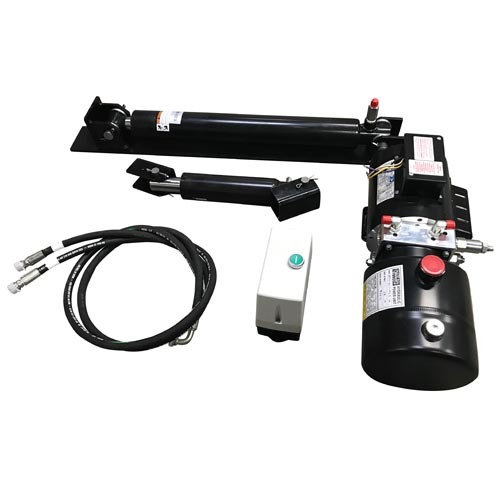 An Adaptable Hydraulic Conversion Kit
Our hydraulic conversion kit includes:
Heavy-duty cylinders.
Adaptable to all sizes of dock levelers.
Full hydraulic operation to automatically extend the lip.
Simple operation with single push-button control.
All brackets, hydraulic hoses and pins supplied.
Detailed installation, parts and servicing instructions.
Dust-tight electric enclosure.
Customizations
Velocity fuse option with heavy-duty cylinders.
Deck maintenance strut.
Full operating range telescoping side guards.
Truck-Lock vehicle restraint systems.
Fall-Stop safety barrier gates.
Brush weather seals.
Steel spring and steel face dock bumpers.
Warranty
• 1 year limited.
Related Products or Services