Durable Mechanical Dock Levelers
Blue Giant's high-performance mechanical dock levelers have an industry-wide reputation for quality and performance. With innovative features such as J-beam deck support and a highly efficient ratchet hold-down system
✓ Easy operation: Deck deploys in a smooth, controlled fashion with a pull of the robust pull chain. Optional, easy-pull system to further reduce pull force by up to 33%.
✓ Less walk down force needed: Engineered with a focus on usability, the Blue Giant mechanical dock leveler is simple to activate and requires less walk down force.
✓ Cadmium-plated hold-down system: Maintains constant contact between the dock lip and the trailer bed, ensuring compatibility with air-ride trailers during loading and unloading.
Information
Available in 30,000, 35,000, 45,000 and 60,000 Load Capacities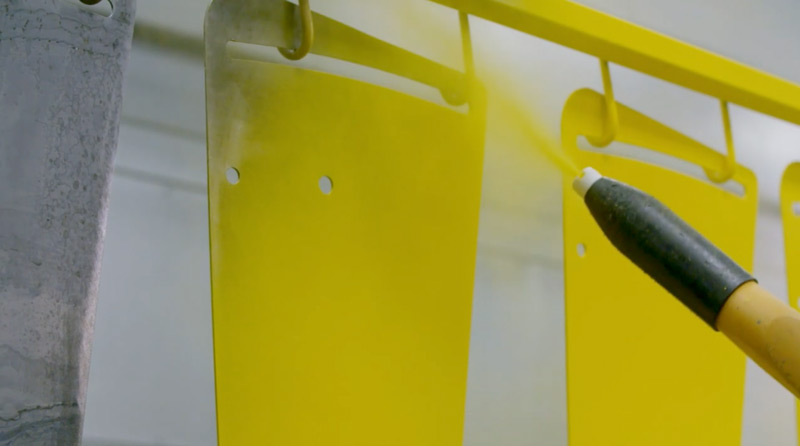 Rust-Resistant Powder Coat
The only hydraulic dock leveler in North America to feature a powder coat finish as a standard. This Blue Giant's powder coat finish provides a long-lasting and rust-resistant finish and colour. It is available in blue, black, grey and yellow.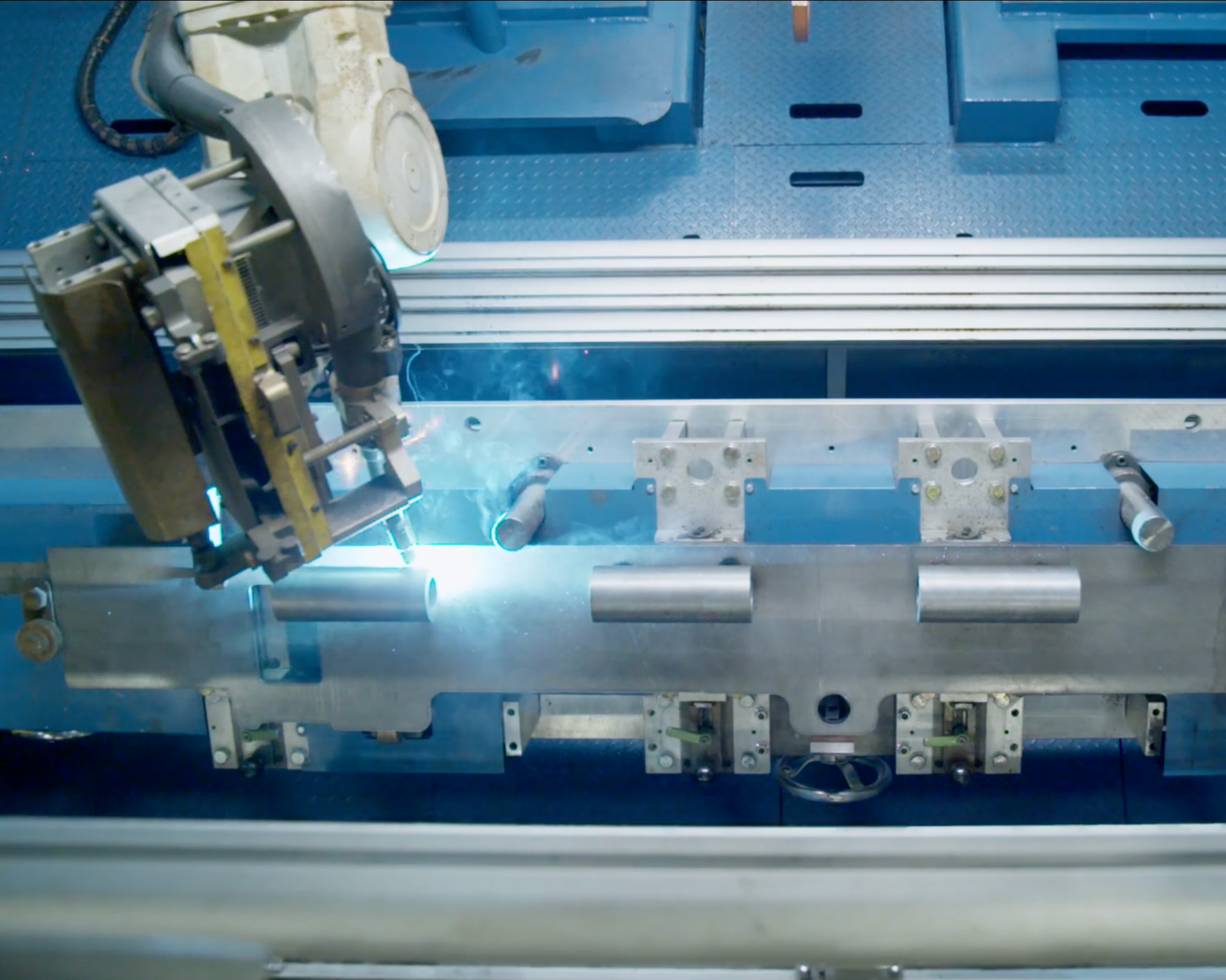 Consistent Quality and Strength
The Blue Giant's state-of-the-art robotic welding ensures structural integrity and uniform quality. Get peace of mind knowing that every weld has the same quality and care put into it.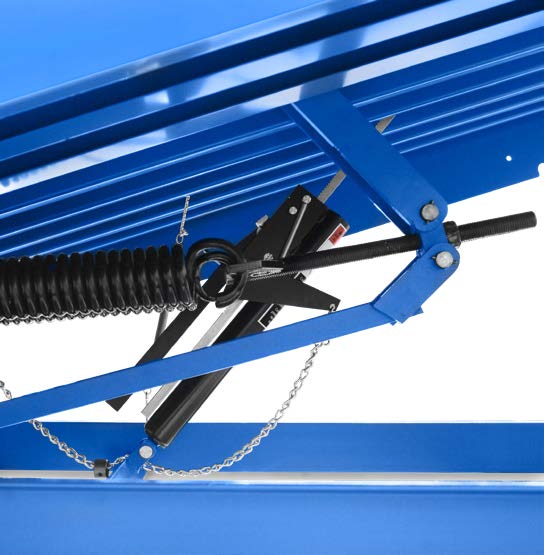 Powerful Hold-Down System
The ratchet hold-down system offers a secure hold throughout the dock operating range.
Automatic float compensation and a pressure relief system prevent tension overload. This allows the dock to dynamically adjust to changes in trailer bed height.
Cadmium-plated ratchet is corrosion-resistant, supporting system longevity. Features eight heavy-duty Cadmium-plated teeth that are wider and deeper than the competition, resulting in a superior grip.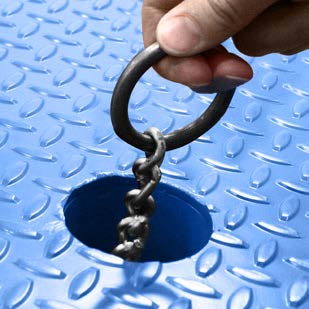 Easy Operation
Engineered with a focus on usability, the Blue Giant mechanical dock leveler is simple to activate and requires less walk down force. In addition, the robust welded pull chain ring drastically decreases the likelihood of link distortion.
Furthermore, the crossbow lifting mechanism design requires no initial adjustment.
Add the optional easy-pull system to further reduce the pull force by up to 33%.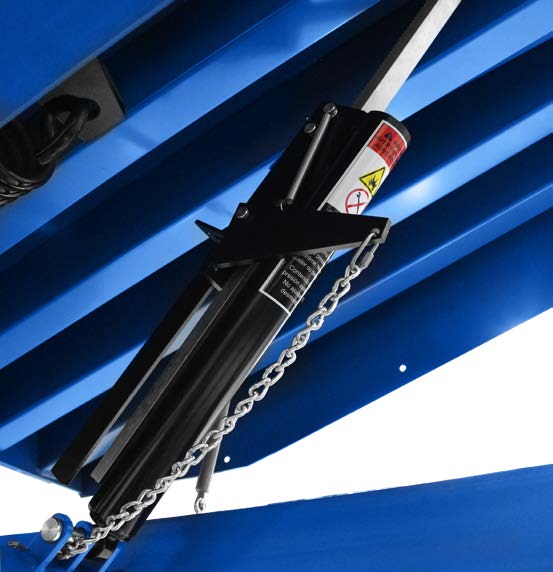 Strong Enough for 3 or 4 Wheel Forklifts
8-10 enhanced J-beam channels are welded to the underside of the deck at dynamic impact points to prevent distortion and extend the lifetime of the dock leveler.
The 7′ dock features just 6″ (152mm) of space between beams at the center, making the dock suitable for 4 or 3 wheel forklifts as standard.
The notched headboard and base frame provide increased stability for service equipment, such as the dock strut and service stand.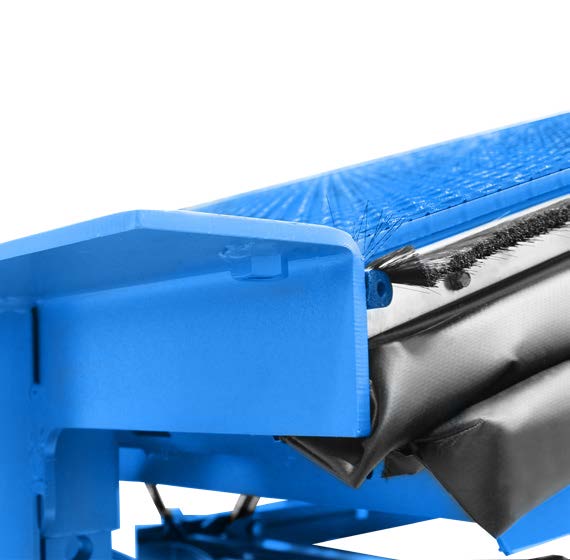 Deck Flex Advantage
Ideal for normal loading conditions, the fixed rear hinge design allows the deck to flex up to 4″  when under load to ensure full-width contact between the lip and the truck bed.
The deck remains flush with the floor to eliminate pinch points and cross-traffic obstruction.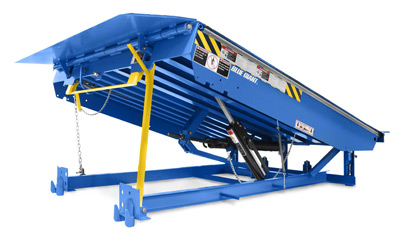 Safety is Key
If a truck leaves the dock unexpectedly or slides free from the lip plate, mechanical fall-safe legs (the yellow legs at the front) prevent platform free-fall, minimizing the risk of worker injury and equipment damage.
The two stage mechanical fall-safe legs eliminate front curb angle damage, preventing costly concrete repairs.
Model Comparison Chart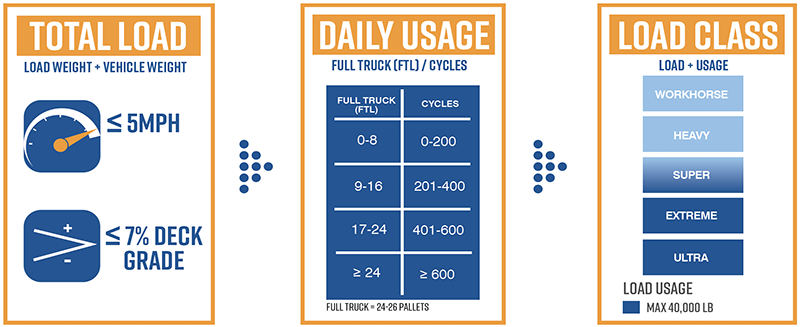 | | | | |
| --- | --- | --- | --- |
| | Workhorse (W) | Heavy (H) | Super (S) |
| Load Class (Acutal Input Load) | 12,500 lbs | 19,000 lbs | 26,000 lbs |
| Load Capacity | 30,000-35,000 lbs | 35,000-45,000 lbs | 45,000-60,000 lbs |
Customizations
Lip length 16" (406 mm) standard 18" (457 mm) or 20" (508 mm)
No-Shim™ dock frame
Energy Seal Plus™
Side and Rear Weather Seal
EasyPull™ to further reduce pull force byup to 33%.
Full Range Toe Guards
Closed Pit Dock Frame
Grease Fittings on Lip Tube
Colour Options: Blue, grey or black

Fall-Stop safety barrier gates.
Brush weather seals.
Warranty
Structural (Deck, Frames, Support Beams, Lip and Hinge)
Related Products or Services